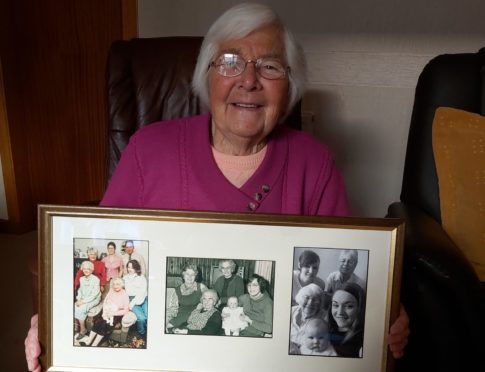 The "Sandhaven walking wifie" has shared how lucky she is to have three pictures showing the five generations in her family.
The photographs are proudly displayed in Maureen Thomson's home for all to see – the oldest of which was taken around 40 years ago.
Each picture shows Mrs Thomson with four other first borns from her family tree, starting with her own grandmother Helen Hepburn, down to the most recent picture of her great-great-grandson 18-month-old Oscar Smith.
The 86-year-old walks on average three miles a day around her village and is known as the Sandhaven walking wifie.
Although it keeps her young, she does admit that despite her big family she would be hard pushed to see another picture added to the five generation series.
She said: "It's really great seeing it altogether.
"I'm lucky to have pictures of three lots of five generations through the family, with Oscar breaking our string of girls.
"It's doubtful I will make it for another five generations picture as Oscar is only 18 months old now but these are really special and hopefully they carry on the tradition."