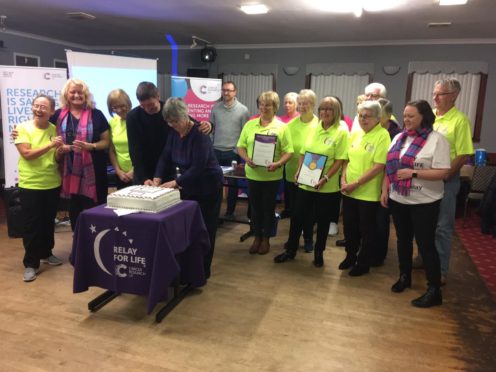 The launch of a popular north-east charity fundraising event has proved a resounding success.
The teams who are taking part in the Relay For Life Peterhead event next year celebrated the work the charity has done so far at a launch night at Buchanhaven Hearts Club in the Blue Toon.
Relay For Life Peterhead has raised more than £2million pounds since the initiative began in 2001 and, as a way of thanking the volunteers' efforts, three Cancer Research UK representatives made an appearance at the launch night.
A spokeswoman for Relay For Life said: "We had a great surprise when the head of volunteer fundraising for the whole of the UK, Trudy Stammer shocked us with a personal visit when she walked in during the presentation.
"It was such a special moment for all of the committee and teams. She felt that she had to thank us in person by coming all the way from London."
Louise Cook, who was among those at the event, said: "What a night and what a way to launch Relay 2020 with three special Cancer Research UK ladies.
"We felt honoured by their presence to thank us all at Peterhead."
Relay For Life Peterhead 2020 is on July 4 and 5 where teams of fundraisers will walk round the track at Catto Park in Peterhead.
Participants commit to raising funds throughout the year and people of all fitness levels and ages can get involved.