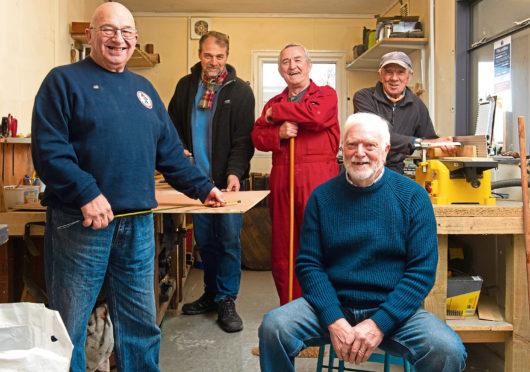 It's a blustery cold morning in Aberchirder, and only a handful of hardy dog walkers can be spotted in the village.
Perhaps better known as Foggieloan by long-standing residents, this small pocket of Aberdeenshire might not appear to be a hive of activity.
The community has a population of around 1,200 – but that does not mean to say that a thriving social scene isn't on offer.
You just have to know where to look, and one rather special project has even caught the attention of royalty.
Head for the portable cabins in the heart of the village and you'll receive a warm welcome from Aberchirder and District Men's Shed.
The group recently received an award as the first Scottish Men's Shed of the Year.
It has been a busy few months with a letter from Buckingham Palace, an invitation to the Royal Garden Party at Holyrood Palace and a meeting with Prince Edward.
But within the humble sheds where it all started, it's business as usual for the dedicated members. The sound of sawing can be heard from the workshop, before the boiling of the kettle brings several men to the kitchen.
"Works every time," jokes James Paterson, who is secretary for the group.
The retired lorry driver has been involved from the very beginning, when the concept of a men's shed was first raised in 2016.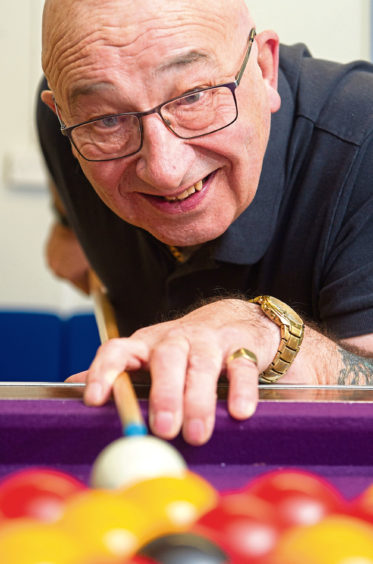 The land on which the collection of sheds sits was lying vacant, and considerable fundraising saw the site erected in 2017.
From growing vegetables to building a mud kitchen for the local primary school, the group has become a vital part of the community.
As well as enabling all 72 members, who range in age from 18 to 80, to enjoy their passions – the group has been a way to combat social isolation.
"You really feel it in a rural place like Foggie," says James.
"A lot of men do their lot in life, they work hard for years and years. Come retirement you think to yourself, 'What do I do now?'
"You don't really know what your hobbies are anymore, probably because you haven't had time to indulge them.
"So you sit in the house all the time, especially in the winter.
"We want men to get out of the house, that's the main thing."
Get out of the house they certainly have, for the busy site now boasts a well-stocked polytunnel, two small workshops and a social area – complete with kitchen and pool table.
"We've got people from all walks of life here," says James.
"There's a farmer, someone who was in the Army, a professor, an ex-teacher, a policeman.
"Just about anyone you can think of.
"There are 150 men's sheds in Scotland, so we were so pleased to be crowned the winner."
James proudly leads the way to the polytunnel, which has been neatly organised with well-stocked raised beds.
He digs his hands into the soil and sifts through a variety of chillies.
"Once we secured the land, we got the polytunnel up almost immediately," he explains.
"The local pub grows salad leaves in here, and there is parsley and strawberries.
"The beauty of the group is that you can indulge your hobby, whatever that may be.
"If you want to come in and do a bit of woodwork in silence, that's no problem.
"We even have a retired blacksmith who can show you some metalwork.
"I would say there are 10 regular members, people who pop in all the time.
"We're officially open on a Tuesday, Wednesday and Thursday.
"This place was sorely needed, because in the village there isn't really that much to do.
"Now there is a place where people can come, even if it is just for the banter.
"A place where you can talk and enjoy a game of pool.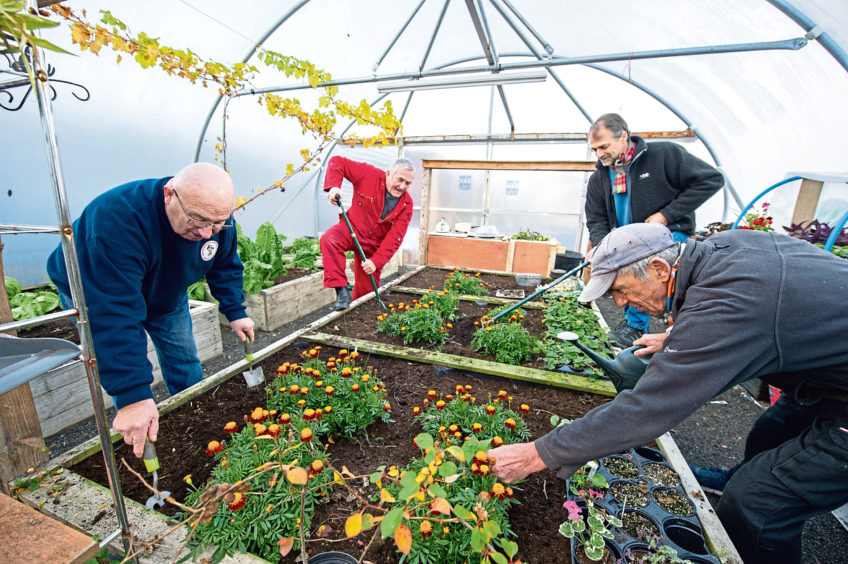 "New friendships have been made here, and 30,000 hours of voluntary work has gone on behind the scenes."
The group installed the cabins and created toilets and fitted a kitchen – where you'll always find a good selection of biscuits.
Apple trees have been planted and tattie boxes made, and the polytunnel now provides a valuable source of income.
"We called the original team The Magnificent Seven, and we put in eight-and-a-half-hour days to get the project off the ground," recalls James.
"And my goodness, the community really got behind us.
"From donated seating to the pool table, everybody helped."
Outings are also on offer, and a visit has already taken place to see the pelagic trawler docked at Fraserburgh.
"We suffer from a lack of public transport in the village, so we've made the shed available to Citizens Advice Bureau and Aberdeenshire Council Job Club," says James.
"The community supported us, we want to support them in return."
Membership is free and you can find the group on Facebook at Aberchirder & District Men Shed, or call 01466 781882.