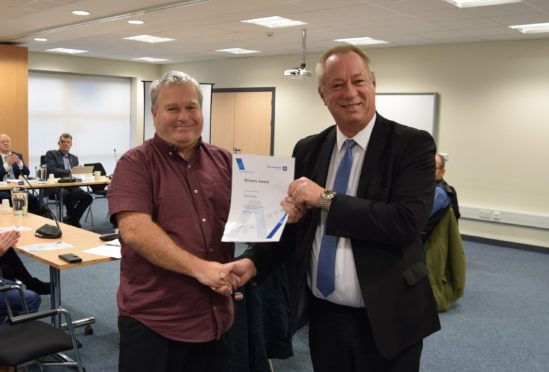 A gallant group of life-saving heroes have been recognised in the first ever Pride of Banff and Buchan Awards.
Aberdeenshire Council has previously celebrated members of the community in an initiative known as Inspiring Aberdeenshire.
But now, other areas have introduced their own schemes such as the Buchan area committee which has launched Pride of Buchan awards for volunteering and significant contributions to their towns.
And yesterday, the very first certificates in Banff and Buchan were handed out to deserving local residents.
The area committee chairman Andy Kille welcomed eight people to the meeting who were being acclaimed for going above and beyond.
He said: "It gives me great pleasure, on behalf of the committee, to award certificates in the first-ever ceremony.
"Today we honour some true local heroes.
"During last summer at Fraserburgh beaches, two separate rescues were made of swimmers who got into difficulty.
"Today, we recognise the members of our community who in some cases put their own safety at risk to be involved in those rescues."
The first of the two incidents took place in July when two brothers were pulled into deep waters off Fraserburgh Beach.
Chay Clark swam out to help, finding the eldest of the brothers face down and dragged him back to shore, assisted by George Bruce and Kevin Clark.
Sarah Geddes and Nadia Gresham, who was unable to attend the ceremony, helped the younger brother to shore where Rebekah Clark gave first aid.
A second incident at the Waters of Philorth happened in August where a holidaymaker and his son got into trouble.
Isla Noble swam with a lilo to retrieve the boy while her sister Eilidh called the emergency services and Keith Gray dragged the unconscious man to shore.
A nurse Sophie Ross subsequrently cared for the man until emergency services arrived – she and Mr Gray were acknowledged as the committee had been unable to contact them about the awards.
Mr Kille said: "You really are all the pride of Banff and Buchan and we congratulate you on your brave and selfless acts. We're very proud of you."