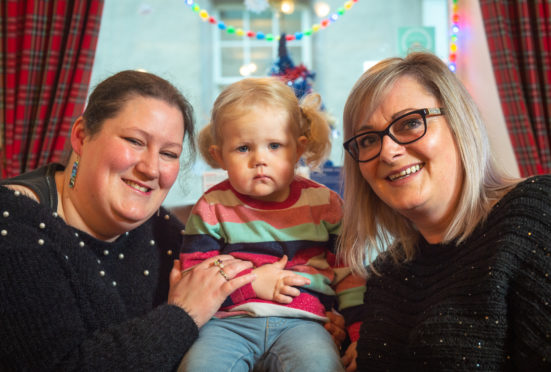 A mum has relived the moment her daughter's life was saved by a stranger after she began choking on her lunch and "turned purple".
Kirsten Goodbrand experienced every parent's worst nightmare when her two-year-old Emilie got into difficulty eating a piece of sausage and went limp. 
She said: "It was very scary – Emilie's face went purple and her lips were blue – it's astonishing how quick life can slip away."
Mrs Goodbrand has now spoken out to thank the Good Samaritan who saved her daughter's life – and to encourage more people to learn first aid.
The 34-year-old, from Inverichny, near Banff, had been enjoying lunch at the Broken Fiddle Cafe in Banff with a friend, little Emilie and three-year-old brother Kalvyn.
The tot had been strapped into a high chair and tucking into a plate of sausage, chips and beans – which had been sliced into small pieces – when she started to choke.
Stay-at-home mum Mrs Goodbrand jumped into action by grabbing Emilie from the chair, hanging her over her arm and slapping her back a handful of times.
Mrs Goodbrand said: "She has a tendency to shovel food in quick so I assumed it wouldn't be too bad, but it became apparent the lump wasn't going to move and I started to panic.
"Fortunately we were surrounded by lovely strangers.
"One rushed over, snatched Emilie from me and had her over her knee smacking her in the back trying to dislodge it."
That stranger was Debra Paul, who was only in the Broken Fiddle by chance as she headed home early from her job as a care support worker.
The 49-year-old said: "I was walking over to pay my dinner and the mum looked at me after thumping the toot's back.
"I ran over and was going at her for a while but she was just limp.
"For work, I recently did a first aid course and had been reading the book in bed at night for that.
"There's a bit about kids choking so I knew what to do, and the adrenaline took over.
"About six times I put my fingers down her throat to try and move it and then finally I heard her coughing.
"Although she was still a bit purple she was coughing, which meant she was breathing.
"I only realised after we left that I was trembling and had just saved that kiddie's life."
Another stranger, Natalie Earl, meanwhile sat with Kalvyn and kept him calm.
Emilie's mum is now encouraging others to do first aid courses – particularly for children.
She said: "I'm eternally grateful, it was the most horrible thing I have ever witnessed so now we've signed up to paediatric first aid courses.
"While I was trying, I just kept wondering if I was doing it right or if I was going to break one of her small bones.
"Everyone hears the stories and thinks it won't be them, but if more people do these courses then more lives will be saved.
"With choking your time really is limited.
"I can't thank either of the women enough for their help."
Emilie is now well, at home with Kalvyn, her older brother Matthieau-John, nine, sister Mikkeilah, 11, and dad Paul.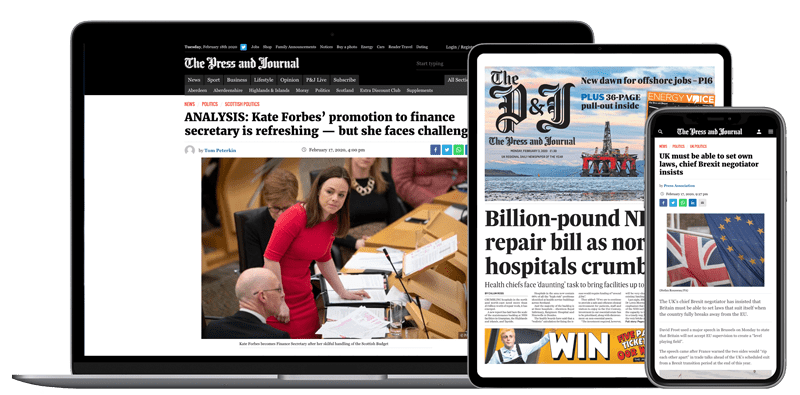 Help support quality local journalism … become a digital subscriber to The Press and Journal
For as little as £5.99 a month you can access all of our content, including Premium articles.
Subscribe