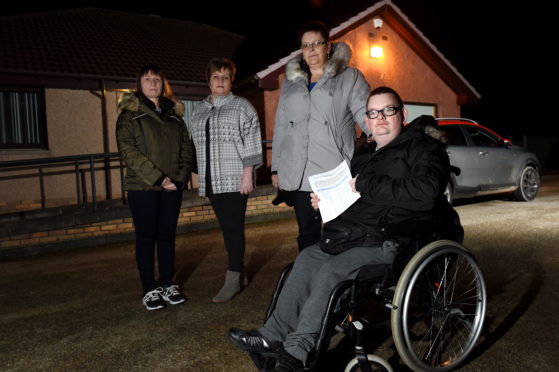 Fears have been raised that a centre for people with disabilities could be closed, meaning users would have to travel 30 minutes to its replacement.
Donna Morrison, whose 20-year-old son regularly attends the Respite Bungalow in Fraserburgh, fears it could be axed as a review into its future is carried out – though health bosses insist that no decision has yet been made.
Mrs Morrison's son, Neil Morrison, has been a regular visitor to the Robertson Road building since he was a child.
She claims that there is growing concern among users and their families that its days could be numbered, and blasted those running it for not informing parents of the review into its future.
Mrs Morrison said: "Why is it always the service users that get penalised for unnecessary cuts?
"We still haven't received an official letter informing us about this review. We've been left high and dry, nobody knows what is happening.
"It's also not been taken into consideration that this place has been used for years, the wellbeing of the service users hasn't been thought about."
The facility is run by the Aberdeenshire Health and Social Care Partnership.
Learning disability manager for the organisation, Laura Thom, last night insisted that no decisions had been made regarding the future of the Respite Bungalow.
She said: "We are in the process of reviewing the respite services we provide, to look at whether what we provide is what is wanted and needed by those who use it.
"There have been big changes in how people access services especially since the introduction of Self Directed Support (SDS), which gives people many more choices in how they spend their personal budgets to ensure that they are getting the services that they need and want.
"We are currently speaking to all of the families that use our services and will be taking a paper with proposals on what respite services we need and people want, to the March meeting of the Integration Joint Board."