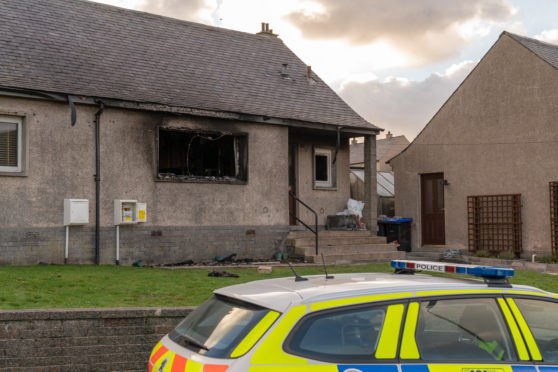 Repairs worth more than £50,000 are to be carried out at a blaze-hit north-east bungalow where a pensioner died.
Flames ripped through the one-bedroom property on The Leys, in Macduff, in December 2018 and left it a blackened ruin.
Alexander Smith, a 76-year-old former butcher known to many as Sandy, was pronounced dead at the scene.
Following the fire, which took three crews hours to extinguish, Aberdeenshire Council workers boarded up the windows and fitted a lock on the property.
Those in neighbouring homes had been evacuated as a precaution during the incident, but no other buildings were damaged.
Family of pensioner killed in a house fire pay tribute to the 'hardworking' man he was
The local authority has now tendered a £50,000 contract for an organisation to once again make the house habitable.
Officers are expected to pick a contractor for the work, which is likely to take three months, in March.
A spokesman for Aberdeenshire Council said: "We have issued a tender for works to bring a house damaged by fire in Macduff back into use. The deadline for interested parties is Wednesday, March 4.
"The work is expected to cost in excess of £50,000 and is likely to take three months to complete. Once the work is complete, it is our intention that the home will be let."
Conservative councillor for Troup, Mark Findlater, said the "sooner the house can be repaired, the better".
He added: "This is a house that really needs work to be started on after the tragic accident a few years ago.
"We are short on houses across Aberdeenshire and the sooner repair works can get started, the sooner someone will be able to move in."
SNP councillor for Troup, Ross Cassie, also welcomed the move.
He said: "I am pleased that this work is being progressed. Obviously the circumstances for this requirement will be in our thoughts."