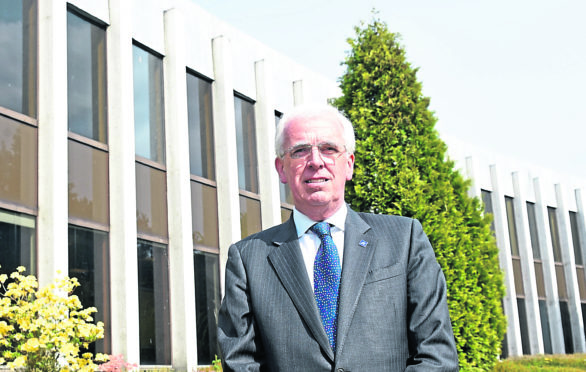 The leader of Aberdeenshire Council has apologised for controversial comments he made about certain towns not being chosen to host refugee families due to expected "conflicts".
Jim Gifford said that Fraserburgh and Peterhead were ruled out as possible new homes for the hundreds who have settled in the region because the authority had fears about the relationship between locals and migrants.
He made the remarks to the EU Home Affairs Select Committee last week, when discussing the council's refugee resettlement programme.
Mr Gifford said the towns had deliberately not been considered as there had been "a fair bit of conflict in those areas over the years".
Missionary officer Miriam Kemp, of the Fraserburgh Fishermen's Mission, was among those who argued that refugees would be made as welcome in the town as anywhere else.
She said: "We have huge quantities of migrant workers from Eastern Europe, Portugal and other countries.
"Fraserburgh is pretty accepting."
Peterhead councillor Stephen Calder addressed the matter during a committee meeting this week.
He said: ""I would like to emphasise that in Peterhead we have a strong, united community.
"There is no conflict between any groups in Peterhead, despite what has been said recently.
"As a community, we welcome people that live among us, and who provide a tremendous boost to the local economy and culture."
But Martin Danziger, of Peterhead-based youth group Modo Scotland, argued that more needed to be done to "address ignorance and hostility" in the north-east.
He said: "It's not racism as such, but xenophobia, so in some ways I think what Jim said is true and I'm curious as to why many people are pretending it isn't.
"Denying there is a divide will be no help."
Last night, Mr Gifford said: "I could certainly have been clearer about how we as a council identified where best to settle our new Scots.
"I acknowledge that and unreservedly apologise if what I said upset anyone.
"No area of Aberdeenshire has been or will be excluded in our search, but for our initial phases, priority was given to ensuring easy connections with communities in Aberdeen to accessing a wide range of support services and employment opportunities.
"We also recognised that the needs of the refugees would be quite different to those of the migrant communities that already live and work in Aberdeenshire and we needed to set up a very specific network of support."
Aberdeenshire Council's refugee resettlement programme has resulted in 58 families – a total of 210 people – settling safely in the area.