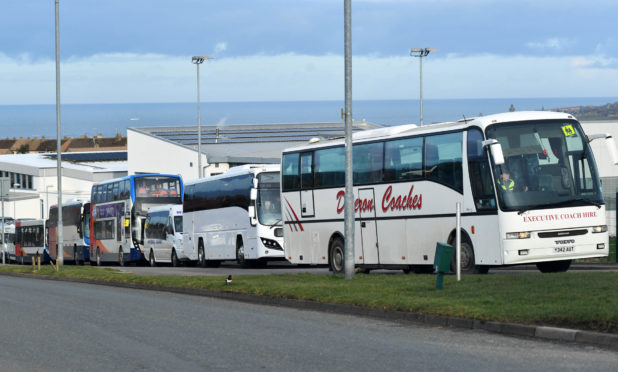 Parents of pupils at a north-east school have launched a petition against an "unfair" £179.40 bus fare.
Aberdeenshire Council's education committee voted to remove charges for dedicated school transport to counteract new regulations last December.
But councillors decided this would not apply to buses that the general public are also on, such as the Deveron Coaches which run pupils from Whitehills and Macduff to Banff Academy.
A spokesman for Deveron Coaches said that one solution could be to "de-register" the service, which he says have had no public passengers in 20 years.
Now fed-up parents have launched a petition, and claim they are being discriminated against.
Single parent Anne Pederson, who pays around £5 a week, said: "It doesn't seem a lot but it's the principle the council offer free transport to other children living within three miles but children on our bus route still need to pay – it made me angry.
"If we live in Macduff we have a local primary. However, the children have to go to Banff Academy and I felt we were being punished.
"It's extremely unfair.
"The petition has more than 520 signatures so far so we know we're doing the right thing fighting this unfair charge for our children to go to school which is compulsory until the age of 16 just because it's a town service route."
To avoid paying the fare, more parents are choosing to drive their children to school.
Parents hope that the committee will reconsider the charges when the petition is handed in at the next meeting on March 19.
Last night, a council spokeswoman said they would "consider any subsequent petition in line with policy" and that the committee had "carefully considered" the policy before making their decision "on safety grounds".
Councillor Glen Reynolds said he would "do all he can" to oppose the "entirely discriminatory measure" and called on the committee to find an urgent solution instead of waiting for the 2021 free bus travel for under 19s.
He said: "I'm against any discrimination taking place over bus transport pupil charges. The bairns should not be penalised."
Councillor Mike Roy felt there was good reason for the charges being enforced but he "understands the frustration".
The petition is available at www.change.org/p/aberdeenshire-council-free-school-bus-transport-to-banff-academy-for-all-students