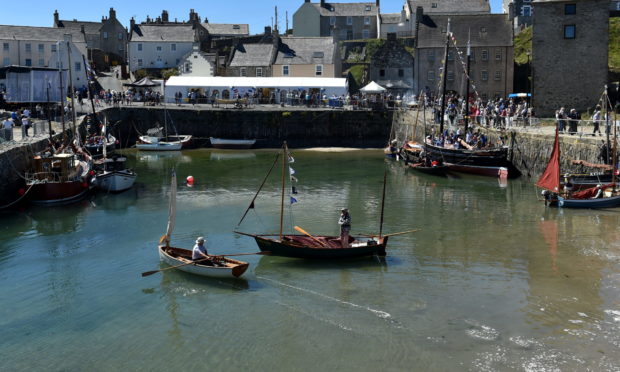 Organisers have made the sad announcement that the 2020 Scottish Traditional Boat Festival will not go ahead.
Although scheduled to take place on June 20 and 21, the festival relies on visitors from across the UK and around the world to make it viable.
With about 16,000 people attending annually, the committee believe it is the right decision to make amid the coronavirus outbreak.
Co-chairman Myles Murray said: "It is greatly disappointing to have to cancel the event.
"Our volunteer team has spent considerable hours over many months bringing together a very strong programme of activities for our visitors to enjoy.
"We are disappointed that this hard work will not culminate in a showcase event, however the health and wellbeing of all persons is paramount."
An enhanced programme had been put together for this year in conjunction with Event Scotland to mark the Year of Coast and Waters.
Now, the volunteer team have decided to carry forward the plans to their 2021 festival.
They include a showcase of local seafood, cookery demonstrations from chefs and industry professionals as well as efforts to highlight the need to protect the marine environment.
Co-chairwoman Vivien Rae issued a thank-you to the volunteers, funders, sponsors and participants for their commitment to the 2020 event but said she was already feeling positive about the 2021 festival in Portsoy on June 26 and 27 next year.
This year's event would have been Miss Rae's tenth as a volunteer and her first alongside Mr Murray sharing the role of chairperson.
Miss Rae said: "We had so much planned for this year, with a huge range of performers, chefs, fishermen and demonstrators due to have visited us to showcase the process of sea to plate for our seafood.
"As well as that, there were going to be connections with charities who link into the Year of Coast and Waters theme, such as Marine Conservation Scotland and the RNLI.
"The boats were all scheduled to be docking at Portsoy too."
The viking group from Up Hella Aa were due to be coming for 2020, with the committee keeping it under wraps for now whether they will return in 2021 instead.
People who bought advance tickets for the Friday night gig at the Green and the festival itself will be contacted about a refund.