Residents in a north-east town were left shocked when a huge potato harvester veered from the road and obliterated a garden wall.
Stones were sent smashing into patio doors in Banff when the agricultural equipment tumbled into properties from a stretch of the A98 route to Macduff today.
The machine was on a trailer being pulled by a tractor heading east when it came off the road near the Esso petrol station.
Onlookers reported seeing the trailer "bounce" from the carriageway onto the pavement before hitting and destroying a 60ft stretch of a wall.
Some of the Victoria Gardens properties were hit by debris but nobody was injured.
Resident Kayleigh Britton described her shock at seeing the harvester crash into her garden.
She said: "I was on the phone to my dad and, the next thing I know, a brick has smashed through the patio glass and I just saw this massive machine hanging over the garden.
"It really scared me. The brick went right through the glass and now it's really cold in the house.
"There's bricks all over our patio garden and next door's garden.
"I'm so thankful no-one was hurt and that my son was playing in the kitchen instead of the garden."
Another passer-by said that he watched the incident unfold.
He added: "The trailer was quite low and it just seemed to bounce off the road, onto the pavement and into the gardens.
"The driver stopped the tractor as soon as he could, but it had taken out a fair bit of the wall first."
Police were called at around 12.50pm to the crash and a spokesman confirmed that council workers attended to "make the area safe".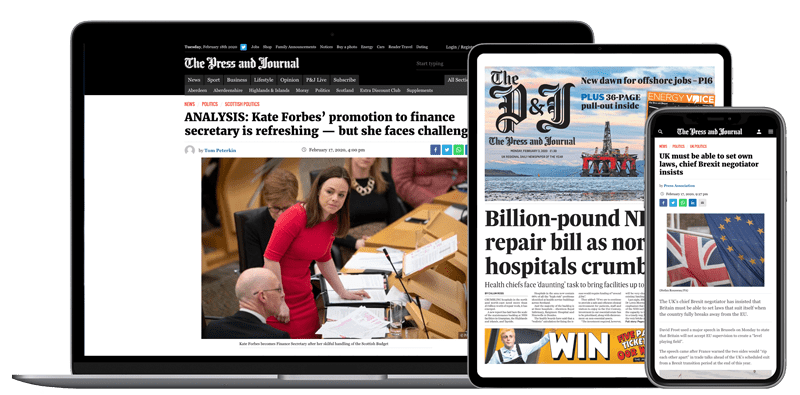 Help support quality local journalism … become a digital subscriber to The Press and Journal
For as little as £5.99 a month you can access all of our content, including Premium articles.
Subscribe