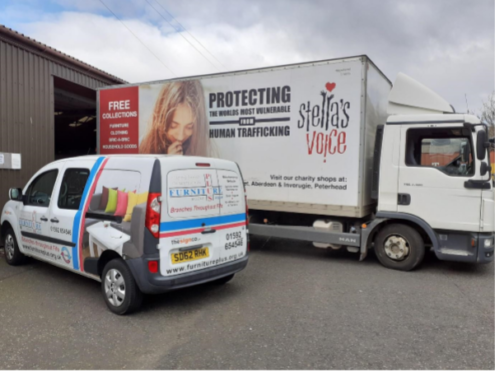 Generosity in the midst of crisis has helped a north-east charity furnish accommodation for the homeless during the coronavirus pandemic.
Donations to Stella's Voice have largely ceased amidst the lockdown but the need for the charity's aid has not stopped.
Last week, Aberdeenshire Council approached the charity asking if it could provide furniture and white goods to prepare 10 properties as temporary accommodation.
European director of Stella's Voice, Mark Morgan, said the charity "normally works with the council but at a slower, more steady pace".
He said: "Our stock levels have depleted since mid-March and speaking to other organisations like ourselves, many are facing similar problems."
Nonetheless, the charity – which aims to stop human trafficking – was able to reach out to other consortium members and found the Fife-based charities Furniture Plus and Castle Furniture both had stock they could offer.
Mr Morgan said: "Furniture Plus, Castle Furniture and Tayside Re-users went out of their way in working with us to help in any way they could, even though each is facing its own pressures during these challenging times.
"The commitment to help was inspiring."
The consortium has been supplying reuse furniture to a number of local authorities over the last three years, including Aberdeen City and Aberdeenshire Council, as well as several others across Scotland.
The councils then provide this furniture to their clients in need either through Scottish Welfare Fund grants, or their homelessness services.