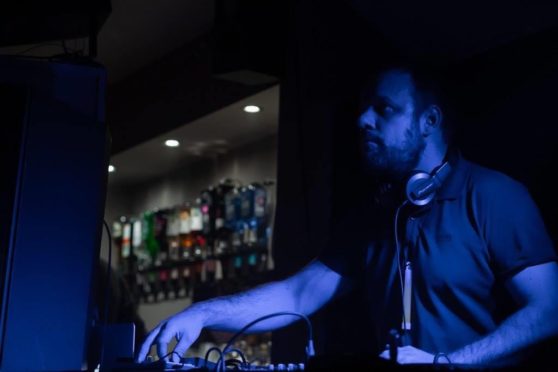 As a DJ, David Henderson spent decades playing to throngs of music fans crammed into packed venues.
Now, he is keeping people entertained throughout lockdown by spinning the decks in the comfort of his own home – and raising thousands for local health workers in the process.
The Peterhead musician has amassed more than £4,000 over the past three weekends while broadcasting DJ sets from his garage over the internet.
Last Saturday alone, Mr Henderson raised £2,100 to provide PPE equipment for NHS staff at Peterhead Hospital.
As a result of his effort, 400 safety masks have been supplied to help keep the essential workers safe from infection.
Although most people tuning in via Facebook are from the north-east, his performances have attracted viewers in places as far away as Australia and Abu Dhabi.
The 39-year-old, who has 25 years of experience as a DJ but has spent recent years focusing on his company Flowtation Music, said: "The sets have been really great and have struck a chord with people in Peterhead.
"I've never done anything online like this before, so I wasn't sure what to expect.
"I was really shocked at how many people were tuning in and with how much has been raised so far, it's just been going really well."
Mr Henderson said he has been talking to staff at the local hospital to find out how exactly they can use the money, and what else might be needed in the future.
He added: "On the second weekend we raised £1,348 to help the Peterhead Community Heart group continue supporting vulnerable people in self-isolation.
"Now we're speaking to the hospital to find out how we can help them for however long they need it, but we'll also look at raising money for other local charities too."
About 300 people of all ages have been tuning in every Saturday night from 6-9pm to enjoy the selection of dance anthems.
Mr Henderson said: "A lot of my friends locally have been listening to my show and their kids have been listening and dancing along.
"I've also had a pensioner and a nurse get in touch to say they've been tuning in.
"I had thought about taking a week off but people have been saying it's the highlight of their week, as it gives them something to look forward to."
Each set has a different theme, and Mr Henderson hopes to play a range of T in the Park-inspired tunes next week for fans of the indie legends who took to the stage of the famous music festival over the years.