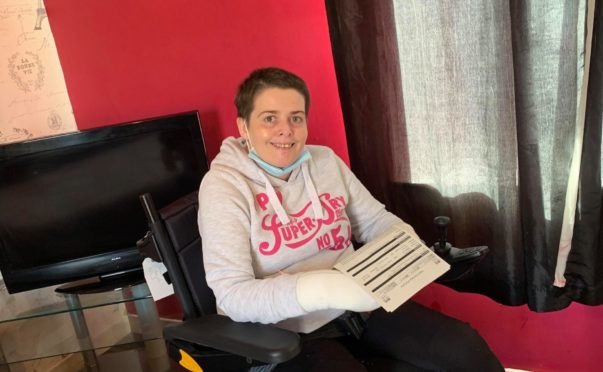 A north-east mum who lost her legs to sepsis has thanked people for raising thousands for her – and pledged to walk again by Christmas.
Joleen Ritchie, from Fraserburgh, developed sepsis after falling ill with pneumonia at the end of last year.
She has already had her legs amputated below the knee, and today will lose both hands in a similar procedure.
In another hammer blow for her health, she contracted coronavirus while being treated at Woodend Hospital in Aberdeen awaiting the latest operation.
But the brave 39-year-old has refused to give in to self pity, and her upbeat outlook has struck a chord with many.
A fundraiser to buy a robotic hand and other equipment to make life easier for the mum-of-four received a huge boost after she shared her story in the Press and Journal at the weekend.
The tally more than doubled, shooting from £6,000 to more than £15,000.
Miss Ritchie has now set herself another target – to walk again by Christmas.
Victoria Taylor, also from Fraserburgh, created the appeal and yesterday hailed the "incredible" support it has received.
Miss Taylor said: "The money will be used to help adapt her home – for just one example, she'll now need a special kind of kettle.
"There will be other things along the way like going back and forth for hospital appointments and the donations will make her life easier.
"I hadn't expected the page to do as well as it has when I first set it up.
"We're totally blown away by with the amount we've raised in a short space of time. It's just crazy. Joleen has a lot of support behind her."
She added: "Joleen is such an amazing, determined person who lives for her kids. After everything she's been through, she's still got a smile on her face.
"She believes she can be walking again by Christmas."
Many online donors left comments for Miss Ritchie on the fundraising page.
Lex Maclaine wrote: "When I read your story it really touched me, I was amazed at your courage and positivity – you are one incredible lady."
Rona Mennie and her partner John Silbergh  have raised more than £8,000 for Miss Ritchie through their fundraising Facebook group.
Donations can be made on Just Giving by searching
"We're raising £30,000 to help get a robotic hand for joleen Ritchie and any other medical aids that may be needed."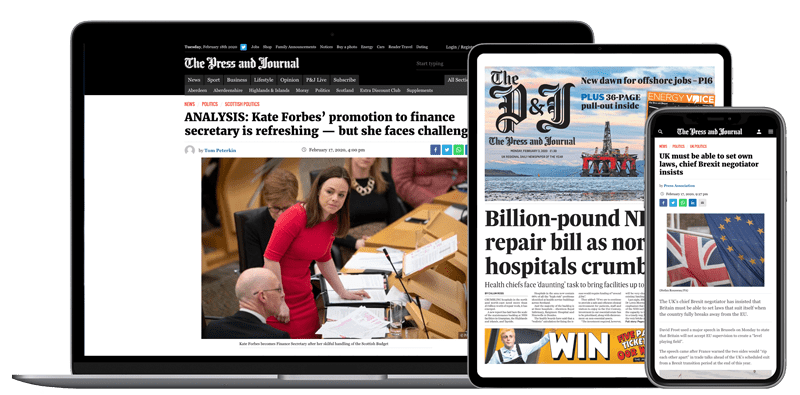 Help support quality local journalism … become a digital subscriber to The Press and Journal
For as little as £5.99 a month you can access all of our content, including Premium articles.
Subscribe