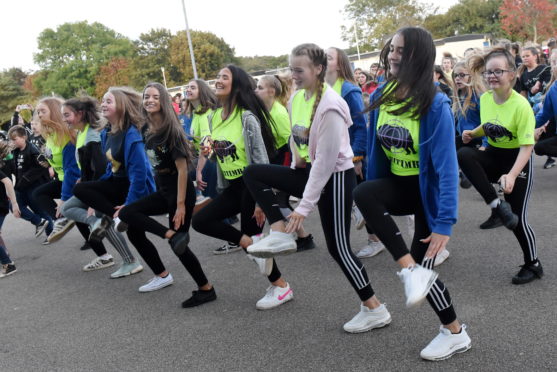 The onset of lockdown marked the second time in months that hundreds of children preparing to show off their skills in a dance contest had their hopes dashed.
Youngsters across the north and north-east were left crestfallen when the popular Rock Challenge contest fell through late last year.
Determined to give youngsters something else to enjoy, a dedicated band of volunteers went into action arranging an alternative show.
Eventually, they managed to organise Make It Happen – with 800 pupils signed up to compete at the P&J Live arena in Aberdeen last weekend.
But just as tickets were about to go on sale, the spread of coronavirus throughout the country changed life for everyone.
Since then, though, the group has turned its attention to helping needy youngsters in the area – and ploughed thousands into buying laptops to help them with their studies.
Don Allan, the event's chairman, said: "From September through to March we helped keep kids active, creatively and physically.
"I've seen firsthand how the Rock Challenge event brought on my eldest daughter's confidence in years past, and that's what I wanted for other kids.
"Make It Happen was our baby, but it was a global pandemic that stopped us.
"I'm confident we could have filled the venue. We had everything from stewards, to sound and light engineers as well as the awards.
"We were all so gutted.
"But as safety is paramount to us, we were left with no other choice but to cancel the event.
"Maybe if we weren't as ready to go as we were, it maybe wouldn't have been as bad."
Since then, the committee has helped north-east children in other ways.
Mr Allan added: "We still made it happen, just in a different way."
With the support of Tackling Poverty and Inequalities Aberdeenshire and the Buchan Development Partnership, the team created the Make It Happen Resilience Fund.
It was formed to help young people who have no digital access to support their studies and keep families connected.
This meant that £10,000 of funding could be shared with local community groups now rather than being tied up in refunds.
After "careful consideration", various schools and groups including the Bairnecessities Baby Bank and Peterhead Academy were awarded grants.