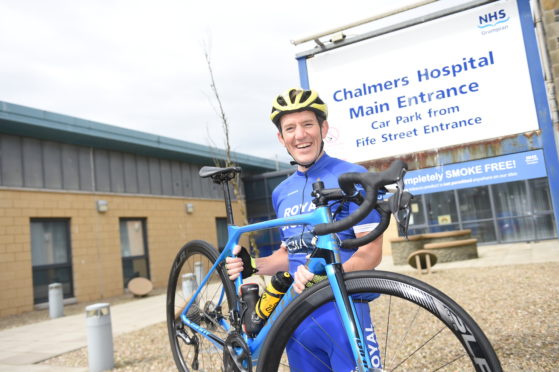 A Banff soldier is hoping to make his mark on his new hometown by raising more than £2,000 for north-east charities.
Staff Sergeant David Jarvis will cycle the North East 250 in aid of Friends of Chalmers Hospital, Banff, Friends of Tarlair and his regiment the Royal Signals.
He said: "The idea came about for selfish reasons as I'm planning a 24-hour cycle challenge in order to help jump start my regiment's road cycle club in the future, so I need experience of longer rides.
"Then I thought I should do it for charity to get some good out of it at the same time, so will be splitting the funds between Friends of Chalmers Hospital in Banff, Friends of Tarliar the open air pool, and the Royal Signals Charity.
"I've never done an endurance event before, the longest time I've spent in the saddle is seven hours."
The 38-year-old is going to be more than doubling that come August 15, as he aims to complete the North East 250 tourist trail in 15 hours.
SSgt Jarvis, who has been a member of the Royal Signals for 20 years, had been living in Bournemouth but recently settled in Banff with wife Stephanie and one-year-old daughter Sophia in preparation for his return to civvy street in two years.
"I've found in the past with all the moving I have through the Army, that the best way to fit into your community it to jump start it by doing something big," he added.
"Banff Rotary Club suggested the North East 250 to me and I'd never heard of it before. I looked it up and was hooked. I took a drive round it with the family at the weekend and thought why not? I've since done a bit of research and realised there's a hill near Tomintoul which is ranked one of the top 100 in the UK. That's going to sting."
After taking up cycling in 2014, SSgt Jarvis went on to compete in criterium racing and become the Royal Signal's reigning champion cyclist.
"This is a totally different challenge altogether though," he added. "I'll leave around 4am but need to get my pace, nutrients and energy levels just right. I have done 400k in a week plenty times, but never in one day."
To support his effort, visit www.justgiving.com/crowdfunding/scaleybackcyclist