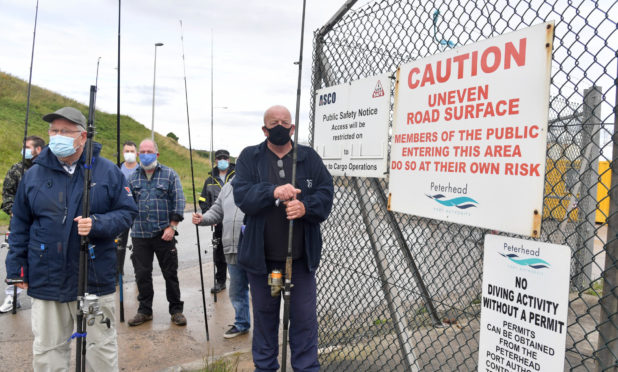 A north-east angling club staged a peaceful protest at the weekend after being denied access to fish on the breakwater in Peterhead.
The recently-formed Peterhead and District Angling Club has accused oil firm Asco of "corporate bullying" following a six week review that has denied them access to the popular spot.
A spokeswoman for Asco said the review – undertaken with the full support of Peterhead Port Authority – "illustrates conclusively that the risks these areas pose to public safety – including danger to life – cannot be mitigated to an acceptable level".
But on Saturday, 18 of the club's members gathered at the south breakwater to raise awareness of what they said is a "social injustice."
One club member, Bruce Buchan, said: "They are assets for the town and have shaped the local culture and heritage of Peterhead and the surrounding area.
"Five generations of local families have fished on these piers."
The club is now calling for politicians and people across the north-east to "publicly contest and challenge Asco's behaviour".
An Asco spokeswoman added: "As operational controller of the north and south breakwaters and Berth 18, Asco owes a duty of care to protect the public from potential harm.
"Unfortunately, this can only be achieved through prevention of public access to these areas".