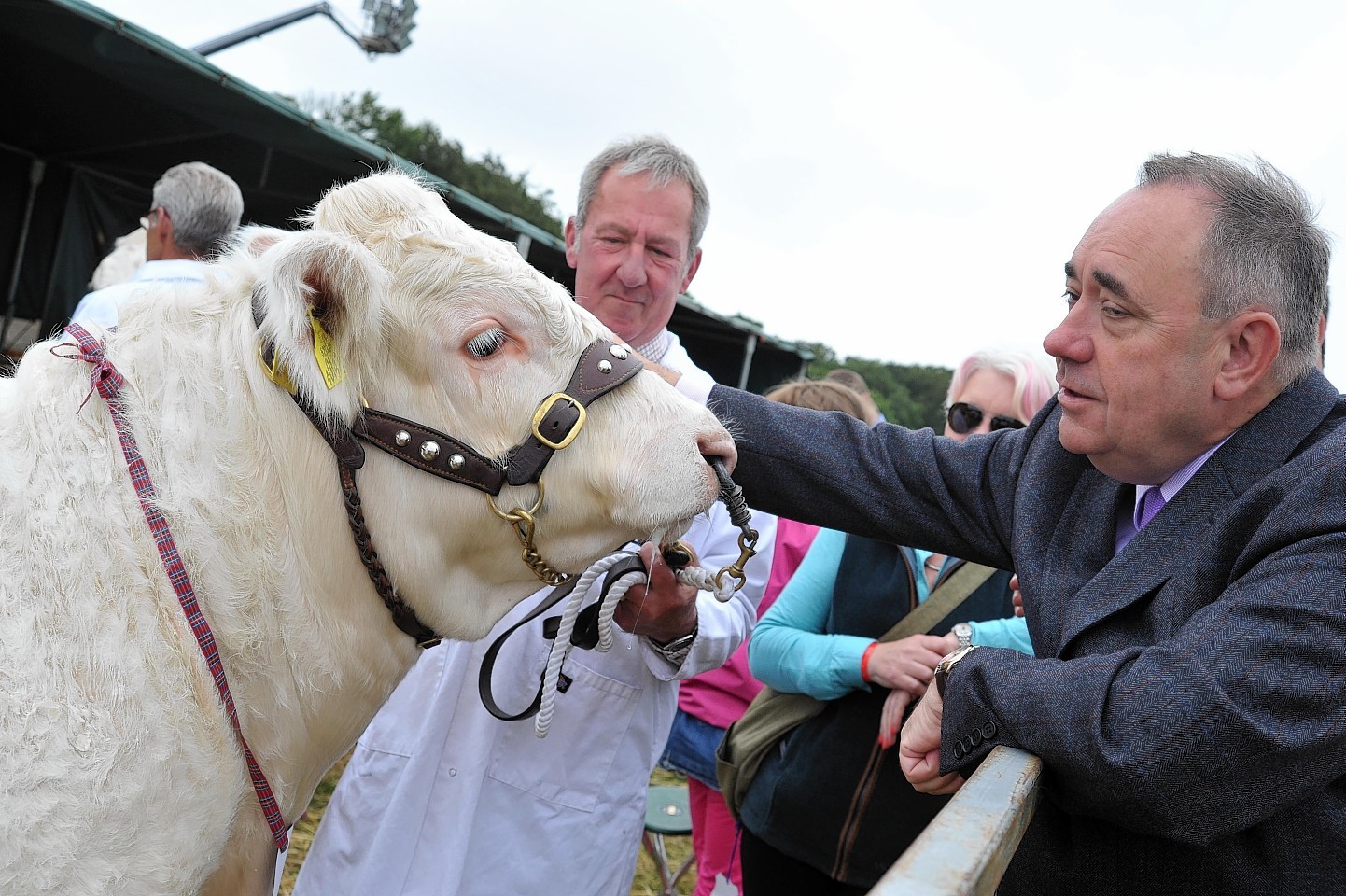 Wet weather dealt a cruel blow to one of Scotland's longest-running farming events this weekend.
Torrential downpours hit the 167th New Deer Show, causing a drop in visitor numbers.
But there was some good news for organisers with the announcement of extra funding from the Scottish Government.
First Minister Alex Salmond opened the show on Saturday morning and praised the event for helping to enrich community spirit and support local businesses, particularly in the food and drink sector.
He said the Scottish Government had pledged £17,500 to help stage this year's event.
Mr Salmond said: "The New Deer Show is a much loved and eagerly anticipated local event that the whole wider community loyally turn up for year in, year out, and thoroughly enjoy.
"The competition element – be it best of class, shearing, or the young farmers' programme – not only encourage healthy rivalry but more importantly, a sense of community solidarity."
The SNP leader added: "Rural events the length and breadth of Scotland are the jewel in the Year of Homecoming crown, the unsung heroes promoting our heritage and traditional way of life.
"They support many regional businesses who come along to sell their produce, such as our exceptional local food and drink entrepreneurs."
He said the £17,500 for New Deer was part of a £250,000 pay-out to several events held during the year of Homecoming which promote the country's food and drink industry.
"This is especially important as we look ahead to our 2015 Year of Food and Drink, when we build on the activity taking place during the Homecoming year to spotlight, celebrate and promote Scotland's quality produce to our people and visitors alike."
Show president Drew Wilson said this year's two-day festival had been very busy, despite some horrendous weather.
Heavy rain hit the New Deer show ground for a short time around Saturday lunchtime.
The bad weather returned with a vengeance yesterday, with constant downpours throughout the morning and into the afternoon, making it one of the wettest events in recent memory.
Mr Wilson said: "It's been a good show and we've been really busy throughout, but the rain will certainly have put some folk off coming out.
"It will definitely have caused a downturn in our visitor numbers."
He said the Scottish Government windfall was a major boost.
"Its fantastic," he said.
"Some of the facilities we use are in sore need of improvements, so the money will be a real help to us.
"It was great to have Mr Salmond here. He was only scheduled to stay for an hour, but he ended up staying a lot longer."
This weekend's packed line-up included traditional livestock contests, a truck and tractor show, children's races and a very muddy tug of war competition.
One of the biggest draws was a visit from the Eriskay Pony Society, which works to protect and promote some of Scotland's rarest ponies.