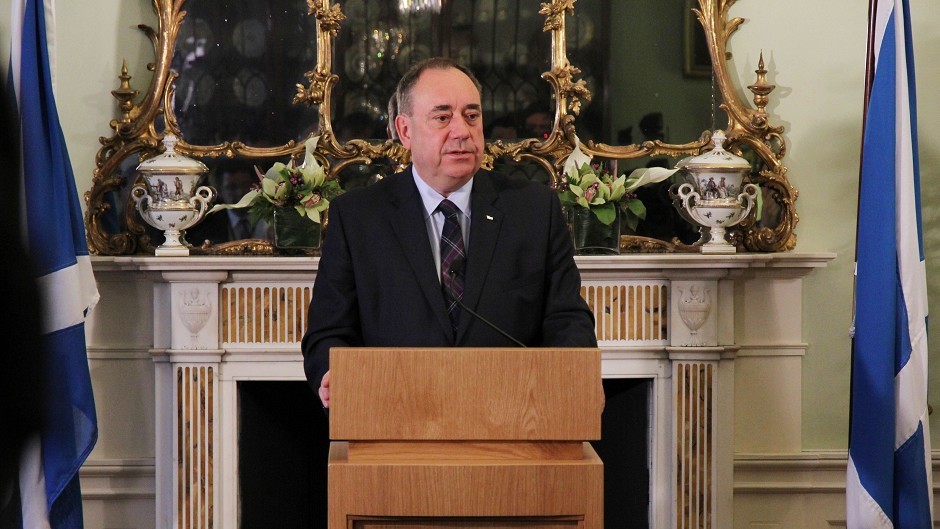 Residents of the quiet north-east village that Alex Salmond calls home were shocked to hear of his resignation as first minister last night.
Mr Salmond posted a picture online of him and his wife Moira in a helicopter, ready to head home to Strichen just hours after making the announcement, thanking supporters for their good wishes.
And in the village, near Fraserburgh, where residents see one of Scotland's most powerful men as one of them, there were further messages of support.
Madalene Sherwood, 51, said: "I'm a bit shocked – I wasn't expecting it. The man has never done me any wrong, but he must be exhausted.
"You believe he does have Scotland's best interests at heart."
Eddie Ironside said he was "gutted" with how the referendum had gone as a whole.
The 74-year-old added: "I don't think there's anything more or different he could have done."
Living in a converted mill with his wife, the Aberdeenshire East MSP has been always been active in his community.
In 2012, he chose to volunteer his time, as part of a tribute to the 67 years Nelson Mandela devoted to his own country's civil rights struggle, at the local community park, and has also supported the local animal sanctuary Willows.
Local businessman Hebbie Fowlie, 56, who runs the butchers in Strichen, said last night that Mr Salmond had done a their village proud, adding: "Alex did a fantastic job for the village.
"He's been here a long time – he's just one of the locals," he added.
Isobel Mundie also said she was disappointed at the news that Mr Salmond would no longer be the first minister or leader of the SNP, as he had helped put Strichen on the map.
The 67-year-old said: "I'm really disappointed. He's been good for Strichen and the whole of the country."