It has been nearly seven months since north-east man Shaun Ritchie vanished, sparking one of the largest missing person searches in Scottish history.
Police have scoured the land near Strichen where he was last seen by air and foot, and this week the helicopter returned to the scene for a fresh look.
And as the Press and Journal also retraced the steps of the missing Fraserburgh man, his mum claimed her instincts told her there was foul play in his disappearance.
Shaun, who would have celebrated his 21st birthday earlier this month, vanished from a remote patch of woodland after a Halloween night out with friends.
The group travelled in a van from Fraserburgh on the evening of Friday, October 31. Shaun never returned and late on the following Sunday his family made a heartbreaking call to the emergency services.
The missing person search which stretched over the following days and weeks was one of the largest in Scottish history.
CCTV footage of Shaun visiting a grocery shop in Fraserburgh on the night he vanished was released by police, and items of his clothing were recovered, but he has never been found.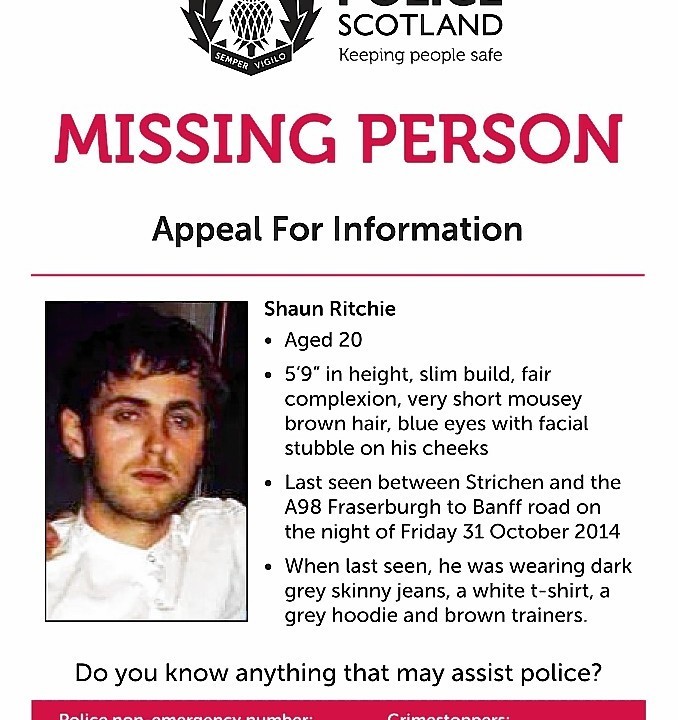 Now that the weather has improved and water levels in the Greenburn marshes near Strichen have begun to recede, investigating officers have redoubled their efforts on the ground.
As the Press and Journal visited the search area to see the challenges facing officers – who have already searched more than 13 miles of ditches – Shaun's family renewed their emotional appeal for any scrap of new information.
Mother Carol-Ann said: "My son went out on the Friday. I went across the street to the shop, and I saw my bairn getting into a white van with five other boys. I shouted to Shaun, and he said 'I'll be home later'."
She never heard from her son again. The then 20-year-old, who had "no patience", left his phone at home on the night he disappeared.
"On the Sunday I had to text one of his pals. That's when it came to light where my bairn was last – out there on a farm."
"I phoned the police for a missing person. I didn't want to believe it was true. But no – then he was a missing person.
"I don't care what Police Scotland have to say about whether there's no suspicious circumstances or foul play.
"There is. I felt that from the word go.
"It might be mother's instincts, I just know. I know there's foul play."
Sister Nicole Shand echoed those thoughts, and said: "Usually he was out at the weekend and he'd come back on the Saturday for money. But we realised something was really suspicious.
"We had to contact the police and put in a missing person report. It was really hard hearing the words – because you never thought something like that could happen. My heart just sank. How are you supposed to prepare for that?"
Miss Shand says she cannot stop imagining "all the scenarios of what could have happened".
Five days after Shaun was last seen by friends near Kersiehill farm house, specialist search teams recovered items of his clothing from the area.
It has also been revealed that two phone calls were made from the Greenburn area to the police on the night Shaun vanished – one calling for help, and the second canceling the request.
But despite speculation, police have insisted throughout the investigation that there has been no evidence of foul play.
Miss Shand added: "When I went up and looked about, there were so many fields, so much boggy ground, so much water, so many trees – you thought to yourself, how could somebody survive out there?
"How could somebody be out there for days without food or water?"
Father Charlie Reid, who was working in Saudi Arabia when news of Shaun's disappearance broke, said on the bad days since his son vanished "it's hard to function".
Mr Reid, who is offering a £5,000 reward for any information which would help in the hunt for his young son, said: "He was with a group of people that night. Everybody got home except him. What happened, I don't know. But I'm not interested in blame. I'm not interested in pointing fingers, I just want him found."
In a direct, raw appeal to witnesses, Mr Reid said: "Just tell me what happened. Share that information, if you don't want to go to the police share it with me. If that's what it takes."
The police helicopter returned to the scene this week in the hope of turning up any clues they may have missed in the winter conditions.
A police spokeswoman said: "This is still a missing person and it is an intelligence led investigation.
"We've had the helicopter out again this week, that's because we are into the summer weather and have seen changes to vegetation and water levels.
"We are able to carry out fresh searches and to get into areas we haven't been able to get into before."
Online editor Martin Little talks about retracing Shaun's steps
Dark storm clouds were gathering as we drove up to Kersiehill, the last place Shaun Ritchie was seen before his disappearance.
We parked up and headed along the dirt track that, only six months ago, was lined with dozen of police cars and search teams.
Ten miles behind us, Fraserburgh basked in the sunlight, it seemed like Kersiehill was the only place in the north-east where it was raining.
Underfoot was wet and muddy, whilst rocks and an uneven road meant you had to watch your step.
The walk was difficult enough in May. It didn't bear thinking what it would be like on a freezing, stormy November night.
At the junction to Kersiehill Farmhouse we came across some tired-looking tributes. Crouching down to look at them, I felt my first pang of sadness for Shaun.
Until that moment, Shaun Ritchie had just been another missing person. Another story in a catalogue of similar events that I've covered through the years.
Looking around me, with rain crashing down, I could see the helplessness of his situation. Dark, freezing and miles from home, in one of the north-east's most unforgiving landscapes.
We carried along the road until we came to the bog where police divers had spent days searching. It was now alive with frogs and insects.
Hopping over the fence we ventured into the woodland behind it.
Walking was hard going, you sank further into the saturated ground with each step. We didn't last long before heading back.
For Shaun, getting home without help in those conditions would have been an impossible task.
Friends and family will continue to search for him. Hopefully one day they can put the mystery of his disappearance to rest.