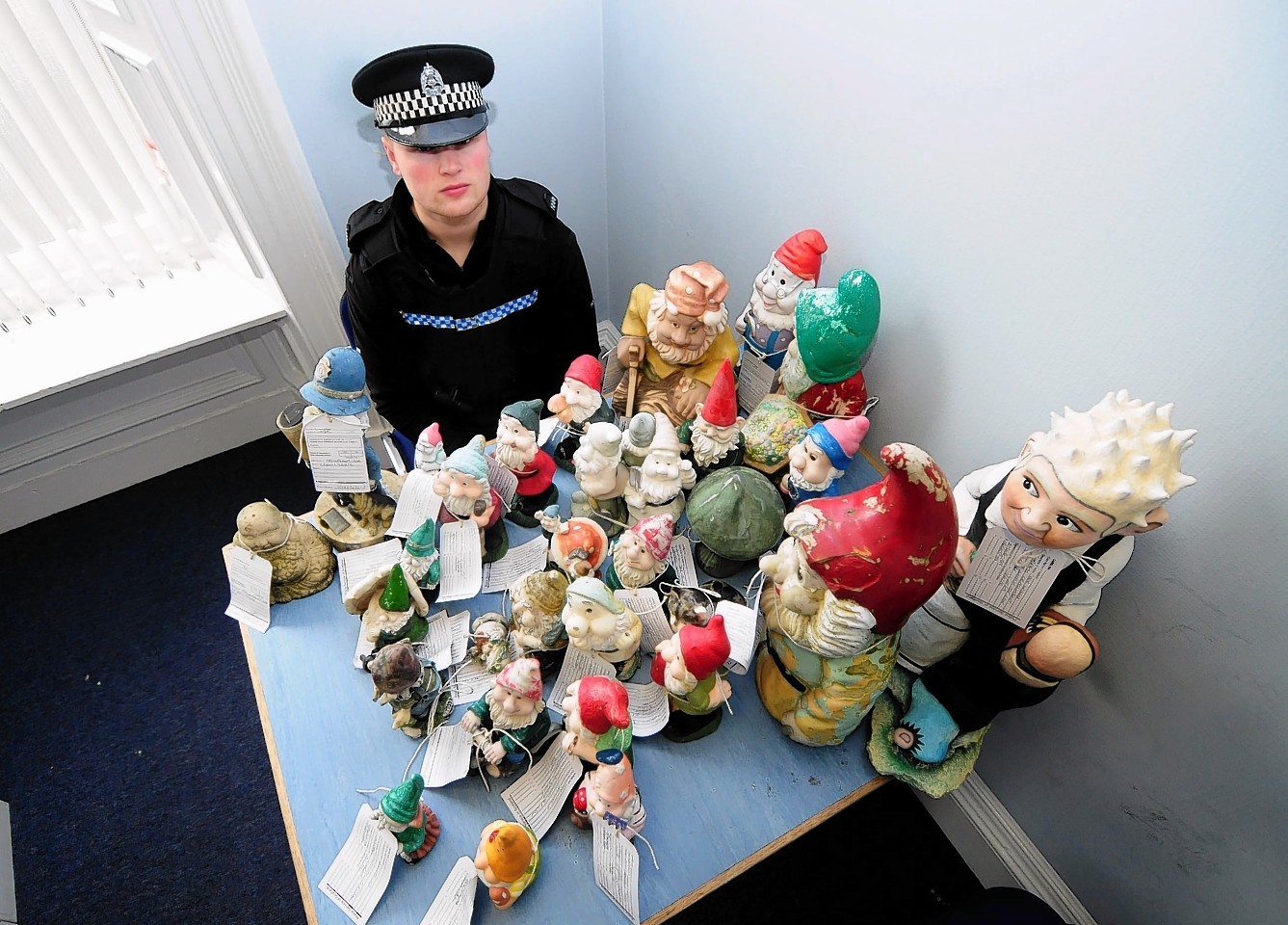 Two teenagers have been charged in connection with the theft of more than 30 garden gnomes.
The colourful ornaments, including a 2ft Oor Wullie, are believed to have been seized from homes throughout the north-east.
They were found in the back of a car which was stopped by police officers in Banff six weeks ago.
Last night, a force spokesman confirmed that two 18-year-olds had been charged and a report will be submitted to the procurator fiscal in due course.
The gnomes have been kept "in custody" at Banff police station while officers try to reunite them with their owners.
Despite several high profile public appeals, many of the characters have still to be claimed.
Banff-based constable Shonagh MacGregor said last night: "The owners may be reluctant to come in to the police office to reclaim their gnomes, but if they call Police Scotland on 101 and quote reference number CF0111170414, we will make arrangements to return the ornaments to them."
Police believe the gnomes were taken between Wednesday, April 2, and Thursday, April 3.
In recent years, there has been a spate of garden ornament thefts from homes across the north-east. Snow White was left with just five dwarves at a house in Bucksburn, Aberdeen, after Dopey and Grumpy disappeared.
In the Buchan village of Boddam, a community group offered a £100 reward to help recover a group of six gnomes which vanished from a garden there.
There has also been a national surge in whats known as the travelling gnome prank.
It involves stealing a gnome and then taking it on a journey and photographing it at famous landmarks, before returning it.
The discovery of the figures at Banff rekindled memories of a bizarre spate of incidents in the north-east in the late 1980s. Residents in Fraserburgh could hardly believe their eyes after a selection of garden gnomes were placed at various strategic points in the town centre.
Two were seen waiting at a bus stop and another pair, found outside a newspaper office, had a note attached asking for them to be sent to a good home.