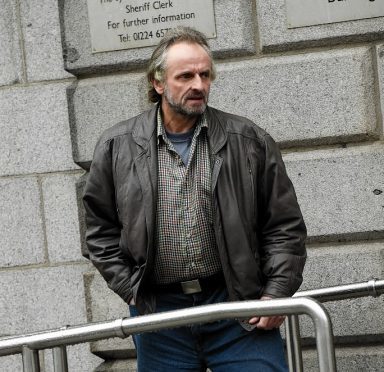 A north-east man has been convicted of owning two homemade guns at his farm in Aberdeenshire.
A jury of eight men and seven women took just over an hour to find Raymond Panton guilty of the charges at the High Court in Aberdeen yesterday.
The 54-year-old had been on trial alongside his former tenant Ian Robertson accused of owning a couple of "improvised shotguns and ammunition" at a rural property just outside New Deer.
Both men denied possessing the weapons and blamed each other.
Mr Robertson walked free from court on Friday after a judge ruled there was not enough evidence to convict him.
Over the course of the trial, the court heard evidence that Panton and Mr Robertson had acquired the illegal weapons after two masked robbers armed with swords raided their home in April this year.
It was said the robbers stole a hoard of cannabis plants and threatened the pair with violence.
The court heard that after the incident, Panton armed himself with baseball bats and other weapons for protection but he denied having any prior knowledge of the firearms.
During a police interview, he claimed he had discovered two metal tubes hidden in Mr Robertson's bedroom at the farm.
He said that once he looked at them he realised – if he slotted them inside each other using a pumping motion – shotgun cartridges could be fired.
Panton called the police and asked them to attend at Parkhill Stores, Greens, New Deer, where they lived at the time.
The pair were then arrested in connection with owning the illegal guns.
Panton was also convicted of acting in a threatening and abusive manner when officers attended to search his property.
Representing him, advocate David Moggach said Panton had suffered from severe mental health problems over the course of the last year and asked for sentence to be deferred for psychiatric reports.
Lord Bannatyne agreed, but warned Mr Moggach that being in possession of such weapons carried a minimum sentence of five years behind bars unless "exceptional circumstances" could be proved.
He deferred sentence on Panton until January 6 and remanded him in custody.