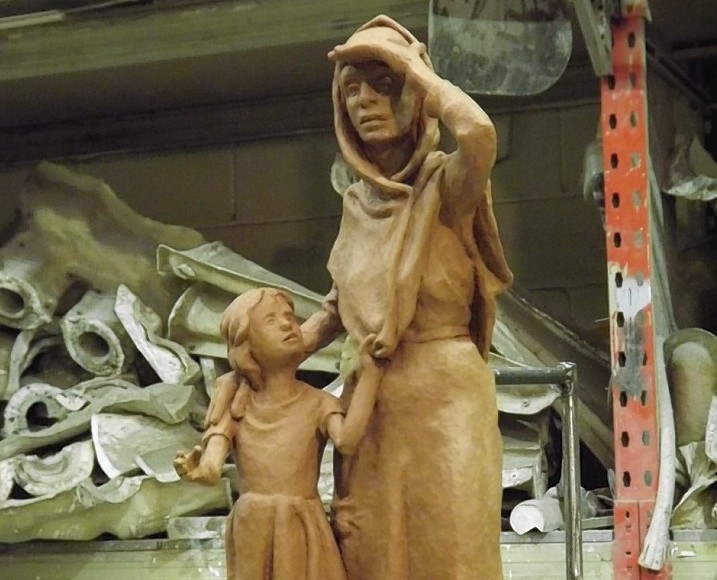 A moving tribute to the men and women lost to the fishing industry in the north-east could be installed this month.
Residents in the village communities of Inverallochy and Cairnbulg have been fundraising for almost a year to build a bronze statue to pay tribute to the hundreds of families torn apart by the dangers at sea.
Their effort has culminated in a striking work of a fishing wife and daughter looking hopelessly across the North Sea which could be in place before the end of the month.
Mike Summers, Invercairn community council's secretary, said there had been a "feeling that the community over the years had lost a lot of people to the sea".
"The Invercairn community council wanted to recognise this," he added.
The campaign to fund the statue was started in February 2015 when the local gala committee loaned the community council £15,000.
Another £15,000 has since been raised and the Banff and Buchan area committee awarded the project £1,000 last month.
The money will be used on landscaping near the completed statue.
"All the ground work has been completed and we are just waiting on the statue," Mr Summers said.
"We still are continuing to get funding from the local community.
"The generosity of the people in the community and the businesses that have contributed to this has blown our socks away."
The bronzework is being completed by Peebles-based Beltane Studios.
The project echoes a similar scheme in the Banffshire coast village of Whitehills.
The local community funded a broken mast statue, honouring all the souls lost at sea.
The memorial was officially opened by Prince Edward, the Duke of Kent during a visit to the region in October.