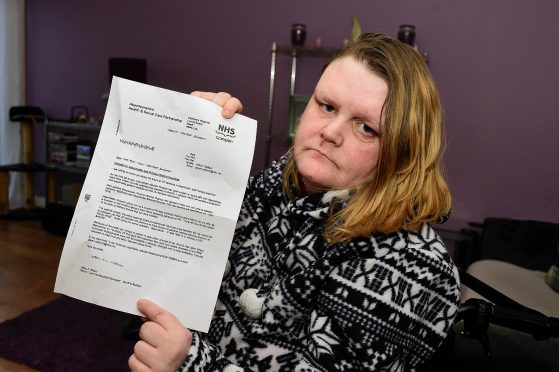 Patients at two north-east medical practices fear they may be forced to make 20-mile round-trips to see a GP because of controversial merger plans.
Health chiefs want to amalgamate the surgeries at Portsoy and Aberchirder amid the ongoing doctor recruitment crisis.
But one patient said last night she feared the move would descend into a "shambles" and local councillors urged NHS Grampian to provide the affected communities with some reassurance.
Wheelchair user Charlie Smith said last night: "It's just all going to go wrong."
The 41-year-old, who lives at Portsoy and has the muscular condition fibromyalgia, added: "We all got letters saying they're merging with Aberchirder.
"We're waiting two hours in the waiting room to see a doctor just now.
"It's going to become a shambles."
There are currently two doctors at Portsoy Medical Practice as well as an advanced nurse practitioner and a nurse.
The sole GP at the Aberchirder surgery is standing down at the end of March, a move which led to the merger proposal.
There is no direct public transport link between the two villages, which are 10 miles apart.
Ms Smith said: "If we want to see a doctor and they're at Aberchirder, how are we going to get there? There are no buses and taxis cost too much.
"This Aberchirder thing is just going to make it worse – it's not going to work. It's going to become a shambles."
Her worries are shared by Councillor Ian Gray who is also a resident of Portsoy and a registered patient at the Seafield Terrace surgery.
Mr Gray said: "I've certainly got concerns. I use the surgery myself and I think the public deserves a bit more detail about how it's going to operate. It's already difficult to get an appointment."
Mr Gray said the root of the staffing crisis was the difficulty in attracting new doctors to the area, but that "young people don't want to come to villages like Portsoy".
He said: "It's going to be a nightmare in years to come – how will we provide a service?"
Fellow Banff and District councillor John Cox added: "I appreciate the hard work carried out by local management, but there needs to be some intervention as clearly there needs to be assurance given to ensure there is equity in service provided."
NHS Grampian has now scheduled a public meeting for today and health board officials will be on hand to answer questions.
Last night, a spokeswoman for the health board said: "As a result of GP recruitment difficulties at Aberchirder Medical Practice, and following positive discussions, Portsoy Medical Practice has agreed to take over the care of patients currently registered with Aberchirder Medical Practice.
"This new service will commence on April 1."
Aberchirder surgery will be run as a "branch" of the Portsoy practice and the health board has assured patients they will have access to a GP at both sites.
It is understood a new GP will join the team in time for the merger, taking the total number of doctors covering both practices to three.
The spokeswoman added: "We are confident that this solution will provide a long-term and sustainable general medical service for the local community."
Banff and Buchan MP Eilidh Whiteford said she was supporting the health board's efforts to "secure the future of the local surgery facility".
Ms Whiteford added: "I am aware that the Aberchirder GP practice has faced significant staffing difficulties in recent years, and the merger proposed by NHS Grampian is a means of addressing these continued challenges while maintaining a local surgery facility in the village."
Other surgeries in the north-east are facing similar staffing issues..
It was announced last year that the Cuminestown and Turriff practices would merge, and Mintlaw Group Practice is in the process of closing its Stuartfield branch.
Gamrie Medical Practice in Gardenstown was closed for several weeks last year when the GP was taken ill.
Today's public meeting will be held at the church hall in Aberchirder's Main Street between 3pm-7pm.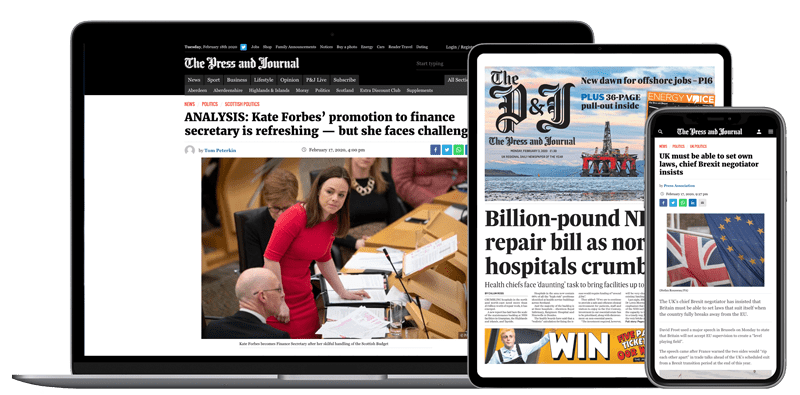 Help support quality local journalism … become a digital subscriber to The Press and Journal
For as little as £5.99 a month you can access all of our content, including Premium articles.
Subscribe