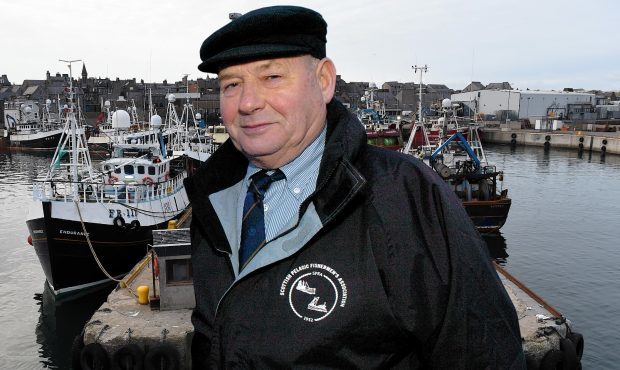 The head of a north-east fishing dynasty has been described as "visionary" who helped shape the modern industry after losing his brave battle with illness.
Andrew Tait skippered his family's vessels for four decades before becoming an ambassador and champion for the fleet.
The 77-year-old – who was known to family and friends as "Andra" – was chairman of the Scottish Pelagic Fishermen's Association (SPFA) for six years and spent almost his entire working life as one of its directors.
And – along with brothers Willie and Robert – their pioneering decision to invest heavily in large purse-seine vessels to fish for herring and mackerel reaped huge dividends.
But he also suffered tragedy when his son John died in an accident at sea on board one of the family's Fraserburgh-registered vessels.
Mr Tait, who stayed at Lonmay, near Fraserburgh, is understood to have been suffering from cancer.
He was described by his family as a "beloved husband" and "dear dad".
Last night, John Wallace, chairman of Peterhead Port Authority, said the UK's pelagic sector owed Mr Tait a "debt of gratitude".
Mr Wallace, who worked closely with him and counted him as a personal friend, said: "He was a highly respected fisherman and leader, and he was a visionary in the industry.
"He was a man of few words, but what he did say carried gravity and respect. He was well versed in his field and his counsel was sought out on a European-wide basis."
Mr Wallace added: "As a friend he will be missed, and my fondest recollection of him was when he showed me a clean pair of heels in the 1984 London Marathon.
"I hope he would smile at that memory."
SPFA chief executive, Ian Gatt, said Mr Tait would be "sadly missed" by all his colleagues.
Mr Gatt said: "During his tenure in office he fought hard for his fellow fishermen, and at all times defended the Scottish pelagic fishing entitlement, which had been created by his generation of fishermen, through their unique skill and hard work."
Current SPFA chairman, Alex Wiseman, added: "Andra was a man with a very sharp mind and forthright opinions who was able and willing to express his point of view without reservation."
Mr Wiseman said his predecessor's tenacity helped form and shape pelagic fishermen's organisations across the continent.
He added: "The pelagic industry is in good shape thanks in no small part to the role played by Andra during a lifetime's dedication to the sector."
The Tait family's Klondyke Fishing Company flourished during Mr Tait's career.
In 2007, one of their vessels, Chris Andra – named after Mr Tait's parents Christine and Andrew – appeared on the television series Trawlermen.
The family's current fleet also includes the boats Taits and Challenge.
Prominent Peterhead skipper Jimmy Buchan starred in the Trawlermen series and worked closely with Mr Tait as an industry representative.
He said: "Andrew always wanted to see the industry doing well. Me and him, when we were travelling, often used to chat and he always took a keen interest in all sectors of fishing.
"His competitive edge, even in his senior years, never waned. That is what made him a pioneer and a trailblazing skipper."
Those sentiments were echoed last night by Fraserburgh councillor Charles Buchan who described Mr Tait as a "big personality".
"He was a leader in his business," the chairman of Aberdeenshire's fisheries committee said.
"They were one of the first Fraserburgh crews to invest in large pelagic vessels and they went on to build a very successful family business on the back of that decision.
"He'll be a big miss – people will miss his influence."
Mr Tait, who died peacefully last week, is survived by his wife Margaret, sons Andrew and Peter and daughters Christine and Esther.