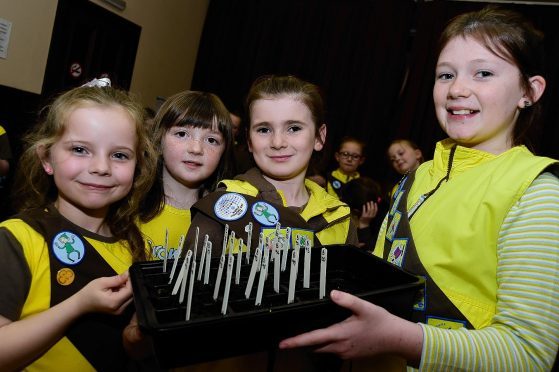 A group of north-east Brownies have had an out of this world delivery from astronaut Tim Peake.
The girls of the Rosehearty Brownie group have been chosen to take part in Rocket Science, a project run by the Royal Horticultural Society (RHS) alongside the UK Space Agency.
Different youth groups across the country have been given packets of seeds which have spent several months in "micro-gravity" in the International Space Station (ISS).
Each group will then plant 100 seeds alongside another 100 seeds which have remained firmly on earth to test whether the plant life's extra-terrestrial adventure has an impact on growth over seven weeks.
The 25 Brownies taking part will not know which seed packet contains which seeds until all results have been collected by the RHS and analysed by experts.
Carole Short, an organiser with the north-east girl guiding group, said the girls were "lucky enough to be chosen" from all the applicants.
"The whole idea is to encourage children to get excited about space and the environment," she added.
Other youngsters in the north-east are also taking part, including groups from Crathie Primary School near Balmoral and Ellon Academy.
The experiment will encourage youngsters to think about how human life can be preserved on another planet and possibly help astronauts who need to survive long-term missions in space.
Rocket Science is just one project developed by the UK Space Agency to celebrate British astronaut Tim Peake's mission to the ISS.