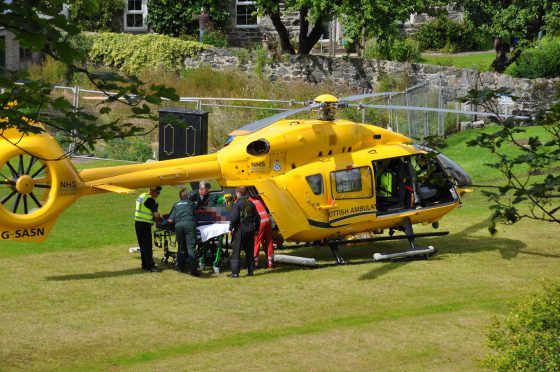 Two women were seriously injured yesterday after a car ploughed into a group of pedestrians in a north-east village square.
Police were alerted to reports of multiple injuries after a vehicle collided with a group of pedestrians in The Square in Portsoy on the Banffshire Coast.
The alarm was raised at around 2.40pm and an ambulance service spokesman subsequently confirmed they had received "several emergency calls" from members of the public.
The most seriously injured of the group was flown to Aberdeen Royal Infirmary (ARI) by air ambulance and arrived at the hospital around 4.30pm.
A second casualty was rushed to the hospital by ambulance.
The other two people who were involved in the collision in the sleepy seaside village square were described by police as "walking wounded".
It is understood all four casualties sustained leg injuries in the crash.
Last night, a spokeswoman for the police said: "There was an incident in Portsoy, in The Square, involving a car and four pedestrians.
"The four pedestrians have been injured. Two of the casualties are walking wounded. One was taken to ARI by Helimed.
"Another was taken to ARI by road ambulance. One person has been confirmed as seriously injured."
It is understood the driver of the car – a red Kia – was not injured in the incident.
One witness, who did not wish to be named, claimed that the driver appeared to lose control of the vehicle as it came around a corner into The Square before careering into the group.
Local woman Susan Wood lives in a house which overlooks The Square. She responded: "I just couldn't believe the amount of police and ambulances there were at the scene – we couldn't get back to our house.
"I had no idea there were four women hurt until I saw the news. It is normally such a quiet place."
Ms Wood confirmed that the usually tranquil village was now bustling and busy with summer tourists and visitors.
She added: "Someone was getting something out of the boot of another car when it happened – or that's what I heard."
Another local woman stated she "heard a lot of screaming and police cars" in the middle of the afternoon, but did not initially appreciate the severity of the accident.
Banff and district Councillor Ian Gray, who lives in the village, said: "I am shocked to hear about this incident.
"My heart goes out to the people who were injured and their relatives and close friends. I just hope that their injuries are not too serious."
Portsoy is usually a peaceful haven for local residents, but, in recent times and particularly during the summer months, it is proving an increasingly popular destination for tourists.
It has recently featured in several tourist brochures, while parts of the remake of "Whisky Galore" were filmed in the community.
Last month, thousands of people descended on the area for the annual Scottish Traditional Boat Festival.