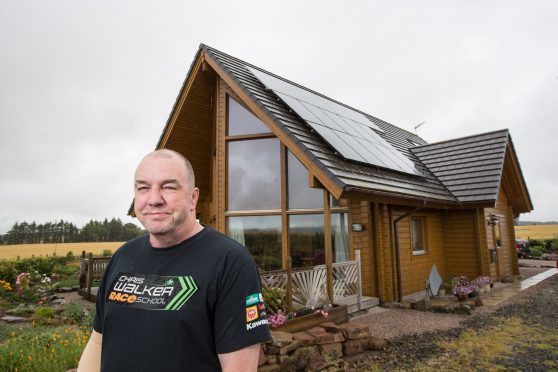 The owners of north-east home designed with renewable energies in mind will throw open the doors to the public next week.
Russell and Janice Quinlan built their log eco-house to suit, on land with no mains electricity.
The couple decided to "think big" and instead installed a number of technologies to make the home, near Fyvie, habitable.
They include solar-powered hot water and electricity, a wind turbine, and even a wood-fuelled biomass boiler.
Last night, Mr Quinlan said people were often surprised by how many green energy resources his family make use of.
"Some people may think having four renewables systems is a little excessive but even though our log house is well insulated with recycled paper, we need plenty of power sources to generate heat," he said.
"The beauty of these products is that they are all sustainable – our house is completely self-sufficient and our mind-sets have changed. The project has really opened our eyes and made us much greener."
The couple's open day, on July 24, is part of a series of events across the UK aiming to showcase green homes.
It is being headed by the Energy Saving Trust.
Visitors will be able to look around the home, chat to the owners about their experiences, and get specialist advice about energy efficiency and renewable technology for their own property.
Anthony Kyriakides, renewables manager at the Energy Saving Trust in Scotland said: "The Quinlans are great ambassadors for the green homes network and will be more than happy to share helpful and honest insights with everyone who visits."
The property, at Long Rig, will be open from 10am to 3pm.