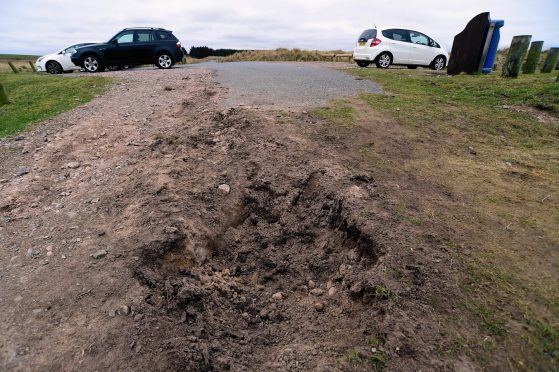 A north-east safety group has criticised dangerous quad bikers for allegedly laying waste to a town's beauty spot.
Fraserburgh Community Safety group has called for off-road vehicle owners to have consideration for others after reports of locals being harassed by drivers.
The organisation's plea was issued just days after vandals wrecked the goal posts at the port's rugby club and destroyed a bus shelter on Maconochie Road.
Brian Topping, the group's chairman, confirmed residents have regularly complained about speeding quad bike users who tear up the dunes at the beach.
He said: "I'm not a killjoy. And they maybe aren't doing anything illegal, but people have got to be considerate."
The bikers have been accused of riding roughshod across the idyllic Waters of Philorth Nature Reserve and speeding past dog walkers as they travel across the sands.
Mr Topping added: "It has been causing a great deal of concern.
"Personally, I have no problem if they're being safe and sensible with their vehicles, but they're destroying the dunes at the Waters of Philorth. It's mindless.
"People can have their fun, by all means, but please have some consideration for other people who have to use these facilities as well."
The Waters of Philorth, on the outskirts of Fraserburgh, is regularly targeted by vandals during the summer months.
Earlier this year, a 4×4 vehicle was used to tear the gate of the reserve from its hinges and drag it towards the main road.
Bikers who use the reserve have even been accused of damaging the port's 239-year-old golf course.
Last year, vehicles were used to cause serious damage to the 13th hole at the seventh-oldest links in the world.
At the time, club captain Gerry Chalmers said the vandals' attacks did not do the town's image any favours.
He added: "It usually happens every couple of years."