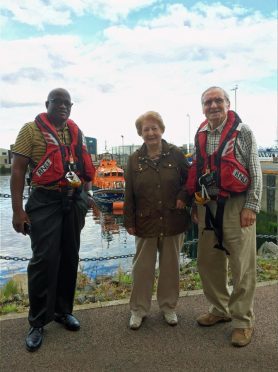 A Christian leader from Africa has visited a lifeboat station and been given a crash course in Doric during his tour of the north east.
Rev Dr Richard Ngomane flew to Cairnbulg last weekend to take part in a service at the Assembly of God ministries across Aberdeenshire, and took the opportunity to pay Fraserburgh's lifeboat station visit.
John Tait, who has been visiting southern Africa for missionary work, said he had been "privileged" to minister in Father Ngomane's church during his trips.
He and his wife, Elsie, hosted the priest during his stay in Scotland.
Father Ngomane is the senior pastor and founder of the Hilltop Church in Mpumalanga in South Africa, which has a large fellowship of about 2,000 people.
He also leads several satellite churches, and is a board member of the Emmanuel Press ministries, a foundation which offers bible courses throughout the continent.
Kenneth Ritchie, a volunteer on Fraserburgh's lifeboat, said Father Ngomane was "genuinely interested" in the history of the station, and asked plenty of questions about the crew and their roles.
He added: "Once down on the boat, the first thing he wanted to know was 'how fast can the boat go?'
"He was impressed when I told him it can travel at 30mph.
"After touring the boat, we went back to the station, where we met up with [volunteer mechanic] Dave Buchan. Listening to our conversation, Dr Richard wanted to know what language we were talking in, because he could not understand anything we were saying."
Father Ngomane, who is fluent in several languages, was given a quick introduction to Doric greetings and was quick to pick up "fitlike" and a few other phrases.