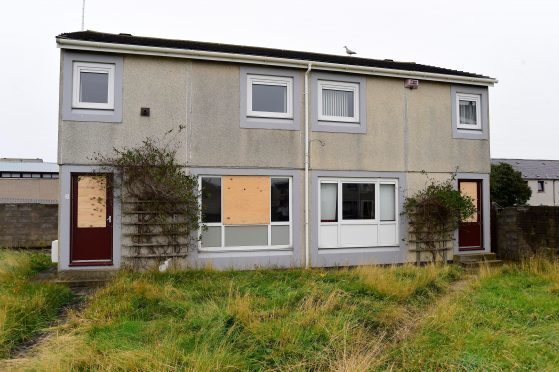 Jamie Ross
Children as young as eight have reportedly been spotted wrecking a former family resource centre in a north-east town.
Aberdeenshire Council moved out of a converted house in Fraserburgh's Bervie Road earlier this year and moved into a purpose-built facility in the coastal community.
The authority left the building, near the college, vacant. But while there had been hopes of using the property as a massive house for a large family, vandals have recently wreaked havoc to the grounds.
The building has suffered smashed windows and the gardens have been wrecked by litter.
Last night, Brian Topping, the chairman of the town's safety group, branded the damage "unacceptable".
He said: "People have seen children aged about eight going into the building and smashing windows.
"It's unacceptable, but not just the vandalism – there's also the fact nothing has been done with it in six months.
"The building has been sitting empty since March while we've got thousands of people on housing waiting lists. It's lost income, because if it was turned into houses, we would have two families paying rent.
"There should have been a plan in place to guard the windows and have joiners and plasterers ready to go in to get the house in order as soon as the council moved out.
"It's just more cost to the taxpayer."
Mr Topping added he has now asked a "series" of questions to the authority, about why the building was sitting empty.
He said: "I want answers about why this has been allowed to happen. It's an absolute disgrace."
Aberdeenshire Council confirmed that nothing had yet been decided on what to do with the building.
Brian Watson, acting head of housing for the council, added: "The council is still reviewing the possible uses for the site and all necessary maintenance work will be carried out in the meantime."