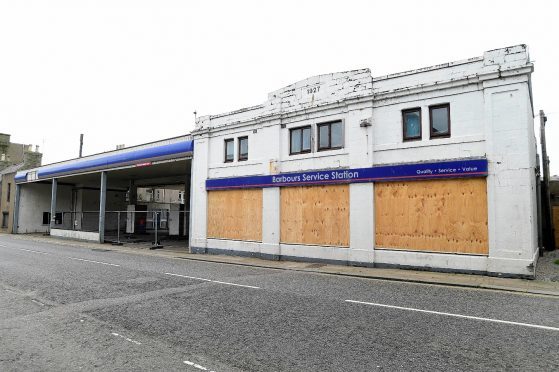 A vision to transform a derelict site in the heart of a north-east town have been revealed.
Grampian Housing Association (GHA) wants to take on a derelict petrol pumping station in the centre of Fraserburgh and convert it into accommodation.
A total of 35 flats would be built in the shopping district of the port.
Last night, local councillor Ian Tait hailed the plans and said he was sure they would be welcomed when a planning application comes forward.
He had initially reached out to Aberdeenshire Council about off-loading the garage – known locally as Barbour's – to housing associations.
"I wanted the site developed both from the point of view of providing much needed housing, but also to remove an eyesore from the central part of the town," he said.
"That has paid off and GHA now legally own the site subject to planning consent. I am quite sure they will have no difficulty in obtaining planning permission."
As part of the project, GHA is also aiming to purchase a council tax office to the rear of the garage to make way for the flats.
Mr Tait explained this would allow the flats to become a "whole" site.
"This is not a sheltered housing development," he added.
"It is mainstream housing."
A spokeswoman for GHA confirmed it had purchased the Cross Street garage.
"We hope to submit a planning application for this joint venture by the end of the year with a view to starting construction in Spring 2017," she added.
"In phase two we are looking to purchase the Mid Street site but this could take up to a year depending on when
Aberdeenshire Council can give vacant possession of the site. This phase would provide a further 15 flats, a mix of one and two bedroom flats.
"It is exciting to be involved in this development as it will mark the start of the town centre regeneration. Grampian Housing Association is pleased to be working with Aberdeenshire Council to bring new affordable homes to Fraserburgh and we see this as a way of helping to meet the high demand for rented housing in the town."