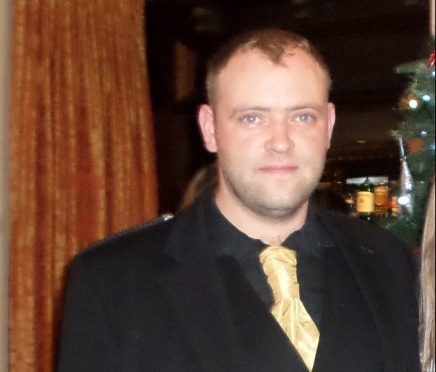 The family of a man left in a coma after a fracas at a north-east nightclub fear he could be left with permanent brain damage.
Dad-of-two James Noble suffered serious head injuries when he was attacked as he was leaving the Deejays venue in Fraserburgh.
Former Aberdeen Football Club starlet Jamie Masson later appeared in court accused of assaulting him to his serious injury, permanent disfigurement and danger of his life.
Twenty-three-year-old Masson, who now plays for Highland League Formartine United, made no plea and was released on bail after a brief appearance at Peterhead Sheriff Court.
Last Night, Mr Noble's pregnant girlfriend Linzy Davidson opened her heart about the tragic incident which turned her and her family's lives upside down.
Her 33-year-old partner's injuries were so severe he was placed in a medically-induced coma for 10 days and had two procedures to relieve pressure on his brain.
Ms Davidson is praying the electrician will be able to see their children again.
The Fraserburgh couple, who have been together for 11 years, have two sons, 10-year-old Brandon and seven-year-old Lennon, and their third child is due in just over two months.
Ms Davidson said: "He just had a drink in the house, and decided to go down the road for a few pints.
"It was late when he left. But he's never often out, so I wasn't worried about it. He's not one for going out, really."
On the night of the incident, Mr Noble had one drink at a local pub before heading on to Deejays.
Ms Davidson's father, Bruce, said: "He only got one drink because they were about to close, so he decided to go to Deejays.
"He was lucky if he was in there for 20 minutes. When he left, that's when it happened, about three feet from the door."
Ms Davidson added: "We're just gutted that this has happened. You hear about these things happening and think to yourself 'what a shame', but you don't expect it to happen to you. It's horrible.
"James is a decent, quiet family guy. He would have gone out of his way to help someone. He was never getting in trouble. If he was ever off at weekends, he would do things with the kids instead of going out.
"I can't take it all in, to be honest. I can't believe it and I don't think I ever will. I just feel numb.
"I'm having a baby in nine weeks. I need him here. I need him. He doesn't deserve this."
Mr Noble is still recovering from his injuries in Aberdeen Royal Infirmary.
Mr Davidson said the family had been shielding his children from the full details of his injuries.
He said: "They're always asking when their dad is coming back from the hospital.
"We've just been telling them that he's sleeping. We don't know what to tell them.
"The doctors told us that they don't know how he'll be. He'll have some kind of brain damage.
"It's affected the whole family."
Formartine United posted a message on Twitter just hours after the incident at Deejays, announcing that Masson had signed a new three-year deal.
The message has since been deleted.
Last night, Formartine United secretary, Bryan Braidwood, said: "The club will be declining to comment at any stage on this matter."
The incident happened in the early hours of September 11.