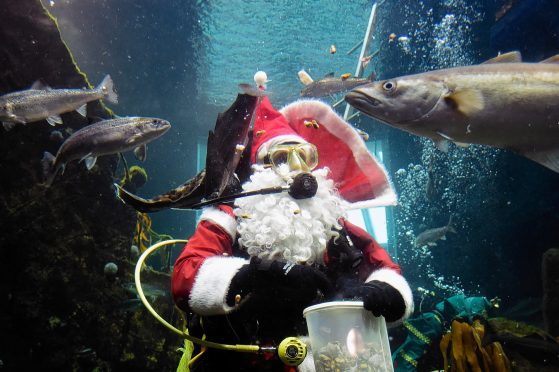 Santa made a nautical pit stop in the north-east this weekend as his mission to deliver Christmas cheer around the globe ramps up.
With less than a fortnight to go before the big day, the man in the red suit stopped off in Fraserburgh and Macduff for festive activities on the Banffshire coast.
On Saturday afternoon the crew of Fraserburgh's Trent class lifeboat Willie and May Gall brought Santa Claus into the port to celebrate with youngsters during the Super Saturday market event.
After being piped into the town centre, he set up his grotto at the nearby Cheers Bar and Tavern to start dispensing Christmas gifts.
Saint Nick was then whisked off to Macduff for his famous feeding session with the fishes at the local aquarium.
Clare Matthews, manager of the Macduff Marine Aquarium, said: "Santa is taking time out of his schedule to go diving – he's spending several days with us.
"At 2pm each day Santa will be getting wet and serving up some fishy treats. There will also be some Christmas fun throughout the aquarium."
Santa will once again don his flipper and join the feeding sessions at Macduff Marine Aquarium this coming Saturday and Sunday. Aquarium staff are also organising Christmas crafting sessions and a cracker joke tour around the tanks.
Last night Santa himself added: "It was brilliant, I always look forward to this day, coming in on the lifeboat, getting piped ashore by the Royal British Legion Pipe Band, meeting young and old everywhere.
"Everyone's so friendly in the Broch, thanks to everyone who made it happen and helped in any way. I'll definitely be back next year."