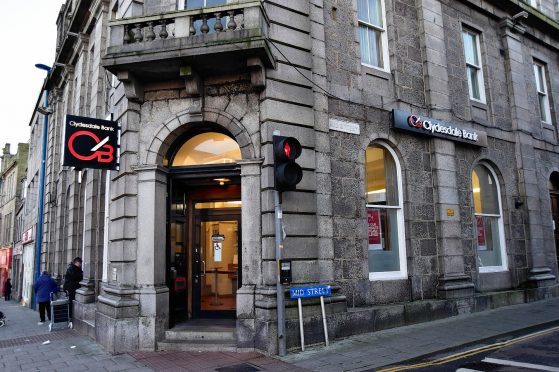 North-east councillors will appeal to bank bosses to reconsider closing branches across their communities.
Banff and Buchan area committee met yesterday and agreed to send a letter to Clydesdale Bank chiefs about their contentious proposals to close branches in Fraserburgh and Banff.
The closure will mean customers have to either travel to nearby banks in Turriff or Peterhead, or switch providers.
The decision to write a letter highlighting the loss will have on local people was taken as an emergency motion by Fraserburgh Councillor Brain Topping.
He said the closures would create a "big gap" in communities.
"It could involve people being made redundant," he added.
"The nearest branch is in Peterhead for Fraserburgh. And we're all aware that a lot of people don't have access to transport. There may be people who do online banking, but there's many people who don't."
Fellow Fraserburgh member Charles Buchan said: "There is a bit of an emergency about this situation.
"Not only for the effect it will have on local businesses, but on the local economy in terms of jobs moving out of the town."
Councillors argued, however, over whether sending a letter was enough.
Ian Tait instead insisted that they should meet the bank's bosses.
His proposal to meet representatives from the bank was ultimately added to the letter.
Mr Tait said: "We as local councillors should be speaking to the people of Clydesdale directly, not through a letter.
"What need to know what is going to be involved for the community."
In e-mails seen by the Press and Journal, Troup councillor Hamish Partridge, who runs a shop in Fraserburgh, had contacted
the council's administration about the situation last week.
Aberdeenshire Council's co-leaders, Richard Thomson and Alison Evison have since written to the bank to express their own concerns.
But last night, Mr Partridge branded himself "disappointed" by the lack of progress made to secure the bank's future.
He added: "We have to act quickly in situations like this."
Clydesdale has said its move will create a better service overall, and has pledged to find jobs for more than 200 employees
"wherever possible".