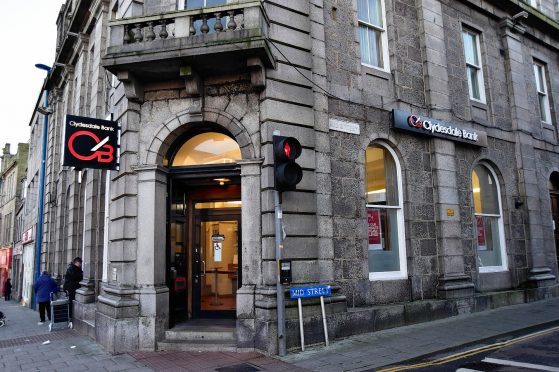 North-east councillors have arranged to meet officials from Clydesdale Bank in their campaign to keep two local branches open.
Members of the Banff and Buchan area committee expressed concern that the closure of bank branches in Fraserburgh and Banff would leave customers exposed.
If the move goes ahead, customers will either have to travel to branches in Turriff and Peterhead or switch providers.
At a recent meeting, councillors backed an emergency motion calling for talks with bank chiefs and independent Fraserburgh councillor, Ian Tait, has now confirmed a meeting has been planned.
He stated: "I am delighted the government relations manager of the bank has agreed to my proposal for a meeting and will meet the area committee councillors.
"We can really get our teeth into their reasons and see if we can persuade them to reverse their decision and keep the branches open."
SNP Fraserburgh councillor, Brian Topping, has also been vocal on the issue. And Troup councillor, Hamish Partridge, voiced fears the bank building could fall into disrepair if it left unoccupied.
The independent councillor, who owns a business in the town, is instead hopeful that the three-storey granite property can be incorporated into plans to regenerate the area if Clydesdale Bank does not reconsider.
There is no word as yet on when the meeting will take place.
Announcing closures across the country, Clydesdale Bank's customer banking director Gavin Opperman said: "While the decision to close any branch is never easy, it is important that we, in line with other banks operating in the UK market, continue to respond to changes in the way customers want to bank with us."
The Fraserburgh and Banff branches are scheduled to close in May. The nearest branches thereafter will be in Peterhead and Turruff, 17 and 11 miles away.