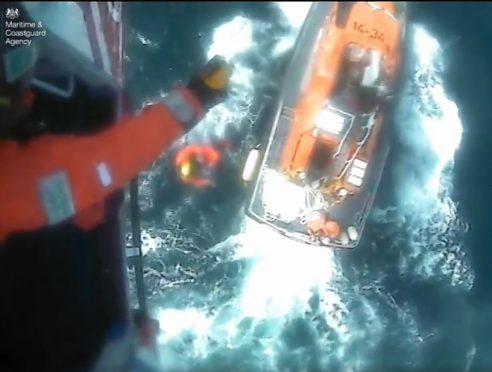 These dramatic images show the moment a rescue helicopter crewman was winched onto the deck of a lifeboat to help steady a sinking ship.
A major operation was launched when a trawler began taking on water more than 40 miles off Fraserburgh.
All five members of the Ocean Pioneer FR928 crew worked to pump water out of the vessel while a coastguard helicopter raced from Inverness to help.
The coastguard has praised the crew for not hesitating in sending out a distress call – a decision which likely saved their lives.
Lifeboat volunteers worked with the coastguard crew to steady the ship and tow the fishing boat back to port. None of the five crew were injured.
A spokesman for HM Coastguard said: "At 11am on Sunday the coastguard picked up a mayday call that was sent from a sinking vessel 40 nautical miles east of Fraserburgh.
"The coastguard helicopter winched down additional pumps to the lifeboat and a tow was safely established.
"Our message is simple: if you start to get into difficulty don't wait for things to improve, call the coastguard the minute you get into trouble as you might not have a chance after that. And that's exactly what the crew did in this case."
The spokesman added: "We want you to come home safe to your loved ones and wearing life jackets and carrying the right equipment, like EPIRBS (Emergency Position Indicating Radio Beacons), life rafts and PLBs (Personal Locator Beacons) will ensure you best chance of survival if the worst should happen."
Fraserburgh's Willie and May Gall lifeboat was launched shortly after 11am on Sunday to help the stricken 62ft trawler which was stranded in 12ft swells.
Several other vessels in the area had responded and offered extra pumps to control the flood waters.
A spokesman for the lifeboat said: "Once on board two lifeboat crew assessed the situation and once the lifeboat's pump was up and running and the water subsided, a tow was rigged from lifeboat and a course set back to Fraserburgh."
The tow took seven hours and when the Ocean Pioneer moored in Fraserburgh there were no further signs of water leaking.
The lifeboat spokesman added: "Once all clear the crew enjoyed a well-deserved pizza in the crew room."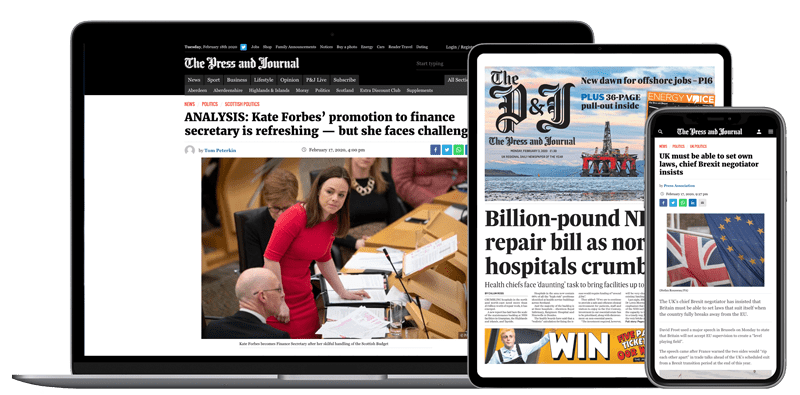 Help support quality local journalism … become a digital subscriber to The Press and Journal
For as little as £5.99 a month you can access all of our content, including Premium articles.
Subscribe