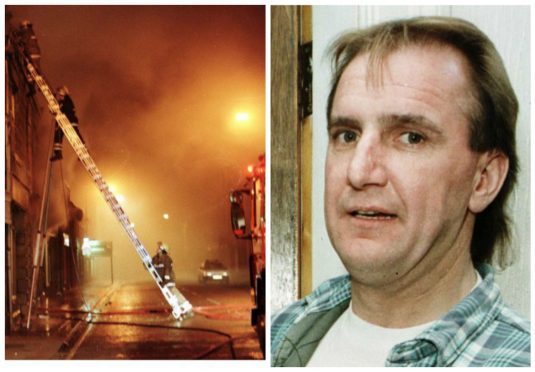 Fire experts yesterday told a jury they believed it was unlikely a smouldering cigarette or match could have started a fire which killed a north-east dad.
Gordon Graham, 43, died after a fire broke out in the flat he was sleeping in on May 3, 1998. His wife, Anne, had to leap from a window to safety.
Barry Henderson is currently on trial at the High Court in Glasgow, accused of murdering Mr Graham and attempting to kill his wife by setting the fire.
The jury has previously heard the original fire investigators initially ruled the fire as accidental.
They suggested it had been caused by a smouldering cigarette on a mattress out on the stairway.
But yesterday, two experts said they did not believe, from their research, that was the case.
Rebecca Jewell told the court she believed the fire was started near a wheelie bin the common close of the flat on High Street, Fraserburgh, by a naked flame.
She said in her report on the fire that she had considered if smouldering had occurred in white bags which were in the close and added: "I am excluding smouldering as a cause of the fire.
"Items such as paper, cardboard, the carpet, a wooden plank and the bin would not be ignited under such circumstances. The patterns of damage remaining at the locus do not indicate that a smoulder preceded the flaming fire."
Professor Niamh Nic Daeid, of Dundee University, who is a former convener of the EU's fire and explosives committee, also told the court she believed a naked flame had started the fire.
She told advocate depute Jim Keegan: "The most likely ignition source was via a naked flame applied to the bin bags reported to be in the area.
"The most likely conclusion is that the application of the naked flame was deliberate and was applied to combustible materials. The use of petrol as an accelerant can't be excluded."
Under cross-examination by Mr McConnachie however, she conceded the possibility of an accidentally dropped cigarette or match causing a smouldering fire could not be ruled out.
Henderson, 42, is also accused of assaulting a woman in a nightclub in Fraserburgh, by kicking her on the leg and attempting to punch her, and of committing a breach of the peace at a nearby car park on May 3, 1998.
He also faces another charge that he behaved in a threatening manner on a bus between Crimond and Fraserburgh last November.
He denies all the charges against him and has lodged special defences of alibi and incrimination. The trial, before Lord Ericht, continues.