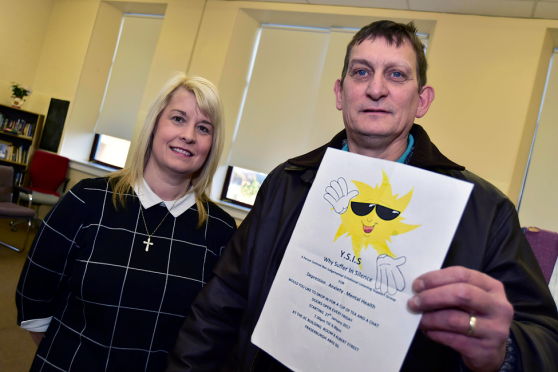 A support group which was set up to tackle depression, anxiety and stress in a north-east town is proving to be a big success.
The Y Suffer in Silence listening network gives residents in Fraserburgh and the surrounding area the chance to drop in and share their feelings with trained listeners.
Local man Paul Greenall first proposed the service earlier this year, and said the service can have a positive impact on people suffering with mental health conditions.
Now Y Suffer in Silence is fully operational and despite a "multitude of challenges" is proving to be a great success.
Mr Greenall said: "We are well aware that funding is getting harder and harder to get with all the cut backs. This has been a major challenge to this organisation with hardly any support being given apart from our own volunteers.
"This is something I personally am very proud of. Y Suffer in Silence is run by volunteers and offers a totally free service – something you rarely see."
Volunteer Marjory Waterfield took part in a Tough Mudder challenge for the group and raised more than £500 in sponsorship.
The organisation has also secured a grant from the Fraserburgh Development Trust of £1,700.
Mr Greenall and his fellow volunteers are now working with local businessman John Maitland to set up a permanent location in the town.
In the meantime Y Suffer in Silence offers its service at the JIC Building every Friday from 7pm to 8.45pm.
Mr Greenall added: "If anybody has time to spare and they are interested in becoming a volunteer for Y Suffer in Silence contact me on paul@ysufferinsilence.org.uk"