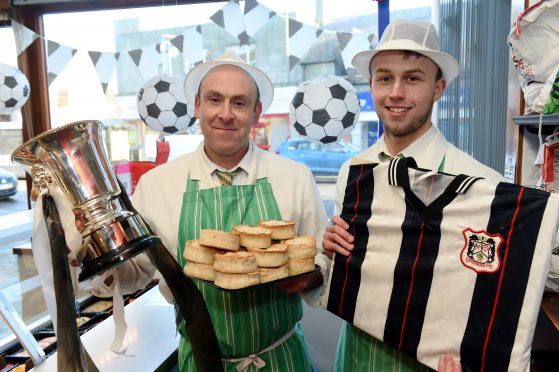 Shopkeepers are turning a north-east town black and white in readiness for one of the biggest occasions in its sporting history.
More than 1,800 fans are expected to pack the stands of Bellslea Park to watch Fraserburgh Football Club host Old Firm side Rangers this Sunday in the Scottish Cup.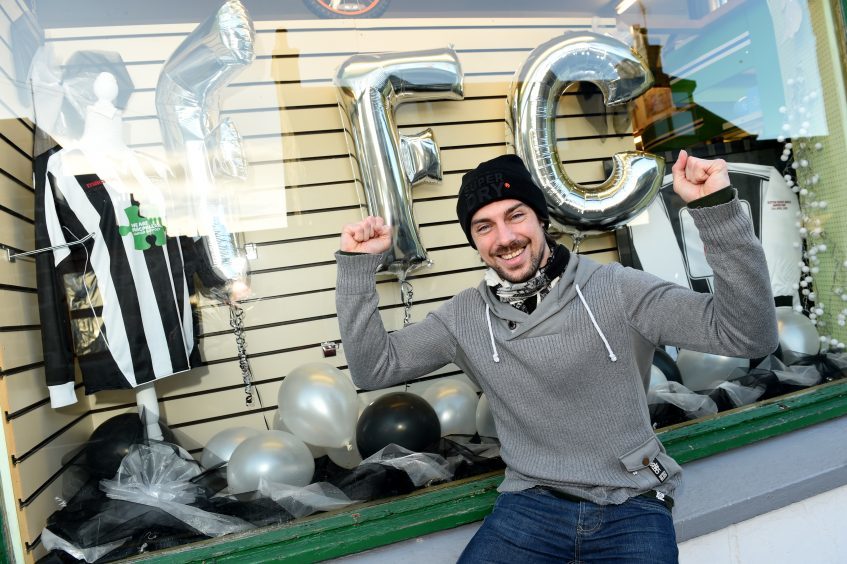 News and media crews from around the country will also descend on the port to televise the game across the world.
And in preparation local businesses are doing their best to entice visitors into the town centre with window displays and special offers.
Yesterday, shopkeepers in the town's Broad Street said they were hoping the match will "put Fraserburgh on the map".
For one business, however, the game has even higher stakes.
Hoping to feature against Rangers on Sunday is Fraserburgh player William West, whose dad and brother run the C & A West gardening and bike shop on Charlotte Street.
Dad, Charles Snr, is also a coach for the club's under-17s side.
Last night, Charles said his brother was keeping tight-lipped about the side's preparations for the game.
He said: "I think it's going to be a big day for everyone, really.
"But I'm looking forward to see my brother play against Rangers and hopefully scoring a goal. I've never been to a game of his I haven't enjoyed.
"We're starting to notice this game means a big deal to everyone.
"We've been asking Willie all the time what they're planning to do and how they're training for the game, but he isn't telling.
"Whatever happens, it's been really good for the town – it's a positive thing all round."
In the town's main thoroughfare, moods were upbeat about the occasion.
James Barbour, who works at Bruce of the Broch butchers which provides the match day pies for home games, said: "There's a lot of excitement in the town just now and everyone seems to be upbeat about it.
"All of the shop windows have been getting decorated and it's nice to see.
"It puts the town in a good light and it's good the community. I'm sure everyone will behave and it'll be a good achievement for the Broch – it's a once in a lifetime game.
"For us, we do all the pies for the hospitality at Fraserburgh so some of the Rangers guys might get to try some."
Duncan Leel, owner of Dicks Sports, had been selling match day scarves to mark the fixture.
They sold out in 35 minutes.
He said: "The level of interest in the game has been quite high, and speaking to a couple of members of Fraserburgh Football Club it's a stressful time. I wouldn't want to be in their position right now trying to get everything organised.
"I think something of this calibre coming into the town is quite good for Fraserburgh as a whole, to see a team like Rangers coming up to play.
"At the end of the day, whether they win or lose, they'll be heroes to everyone in the town. It's putting the town on the map.
"We were selling half-scarves to mark the game but they flew out of the door, but we're hoping to get more in for Saturday."
And Nicola Paterson, TSB bank manager, said the town has been busier since the game's announcement.
"Everyone is speaking about it, it's a real topic of conversation," she added.
"Everyone is buzzing for it, and I think it's going to bring a lot of people into the town centre as well."
One shopkeeper, meanwhile, has a unique take on the game.
Ian Dyga, of R & S Dyga Newsagents, has combined his interest in Star Wars with Sunday's game.
His window, which has been attracting the attention of passersby this week, features Fraserburgh FC shirts alongside a Storm Trooper mocked up as supporter.
He said: "Everyone is being positive and hoping for a good result.
"But it's definitely good for the town. There's been a change of mood in the Broch as a whole, everyone is feeling good, and it will be great advertising for Fraserburgh."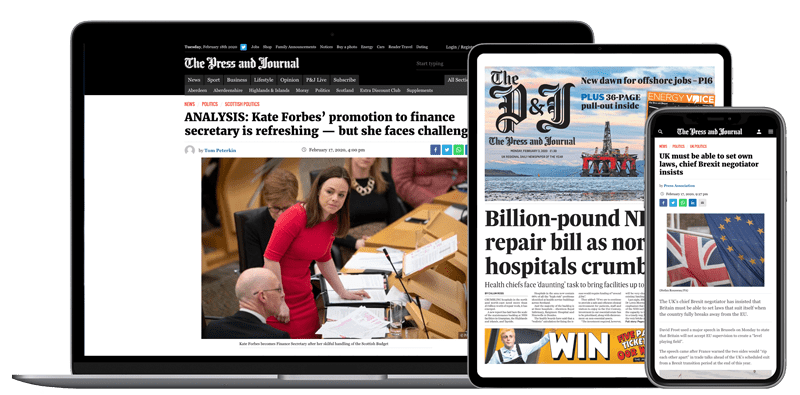 Help support quality local journalism … become a digital subscriber to The Press and Journal
For as little as £5.99 a month you can access all of our content, including Premium articles.
Subscribe