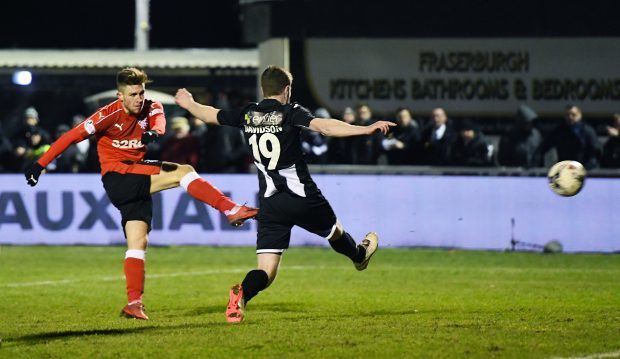 A Highland League football team will be hit with a bill of more than £4,000 for the policing operation at a high profile Scottish Cup tie.
Fraserburgh FC played Rangers in the dream fourth round encounter on January 31.
The Broch team eventually lost the match with a final 3-1 score at Bellslea Park.
The club had to go to extra lengths to provide security on the grounds to make sure football fans and players were safe at the big event.
It has now been landed with a bill for £4327.20 for the force's efforts inside the ground with officers, dog units and vehicles outside being deemed as a "core policing duty."
A huge steel gate, also known as a public order barrier, was the only additional security measure brought in by police and it was set up at the stadium's away end.
Only two arrests were made at the event, although it was marred after fake tickets were allegedly used by supporters to get into the ground.
Shadow justice secretary Liam Kerr has praised the force's efforts for making sure it went without major incident.
He said: "Police Scotland are to be commended for making sure the Fraserburgh game went so well.
"The visit of a team like Rangers, particularly mixed with the heady romance of a cup tie, is a huge event for any town.
"They treat big games like any public event with thousands of people in attendance.
"At more than £4,000, the policing bill for inside the stadium would normally be a headache for any Highland League team.
"But I hope the number of local fans coming out to see The Broch and the significant travelling support more than made up for it."
A police spokeswoman said: "Clubs are only charged for the policing within the stadium.  Policing outwith the stadium is a core policing duty for which no charges are attributable."
An investigation into allegations that fake tickets were sold to football fans ahead of the Fraserburgh-Rangers match is continuing.
It was launched after fans of the Glasgow side were denied entry to Bellslea Park despite appearing to have genuine briefs.
The Scottish Football Association cleared both clubs of any wrongdoing, but police are still looking into the claims.
A spokeswoman said: "Officers from Police Scotland's economic crime and financial investigation unit are assessing information in relation to an allegation of counterfeit tickets concerning the William Hill Scottish Cup football match between Fraserburgh FC and Rangers FC on January 31, 2018.
"If it is established that criminality has taken place, appropriate action will be taken by Police Scotland."