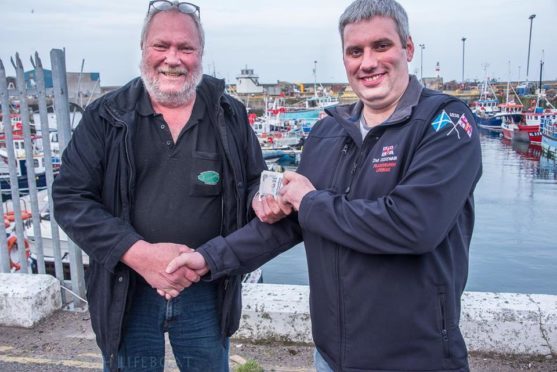 A Danish man has handed a north-east lifeboat crew a donation almost a year after he relied on their help to get home safely.
Jesper Olsen called on the help of Fraserburgh Lifeboat last summer as he toured the coastline aboard his nephew's yacht.
A rope had fouled their propeller between Fraserburgh and Peterhead bringing their journey from Burntisland to the Caledonian Canal to an abrupt stop.
The north-east's volunteers were called into action and towed the vessel into port where it was repaired and sent on its way once more.
Mr Olsen visited the station a year on from his rescue to pay tribute to the crew's work, and handed over a donation of £200.
"It was just amazing what they did," he said.
"They were there in hardly any time at all and once they took us in tow we knew we were safe and in the hands of experts.
"It was really worth seeing the way they expertly towed and guided us safely to our moorings at the pontoons at Fraserburgh Harbour."
Mr Olsen is currently touring the country by road and made a point of dropping by the station with the donation which will go towards continued efforts to save lives at sea.
He added: "We really appreciate the help we got and the work you guys do.
"And we were treated very well when we were here in Fraserburgh. Its something you don't forget."
Second coxswain John Stephen accepted the cash on the charity's behalf.
"It's a fantastic gesture by Jesper," he said.
"It's something he felt he had to do."