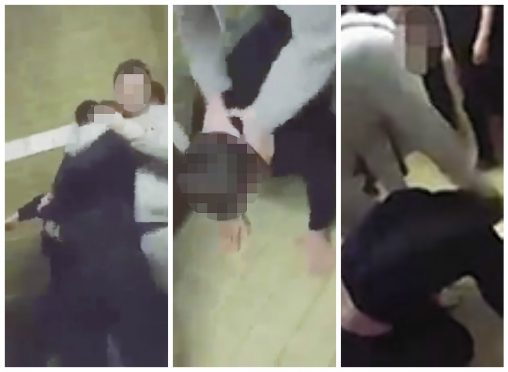 A video has been posted online showing a north-east schoolboy launching a series of kicks at another youth.
The attack, which is understood to have taken place on Thursday afternoon, was posted on social media hours after it took place and involves two pupils from Fraserburgh Academy.
It shows one boy trying to defend himself from being hit while another – his attacker – kicks out towards his body several times.
Other pupils watch and walk around the youths on Mid Street without attempting to break it up.
It is the latest violent video to be leaked online by students at the school.
Last night a spokeswoman for the police said the local inspector had been shown the 30-second clip, although no one has reported it to officers.
No charges have been brought against anyone in the video.
A spokesman for the council said it would speak to the pupils involved.
He added: ""We are aware of an incident in the community involving young people and the school will respond appropriately."
Last May, pupils filmed a girl – who was not a pupil of the academy – attacking a student in the school's gym hall.
Other children can be seen in the video standing by filming the exchange on mobile phones encouraging the attack.
A year earlier, a schoolboy was filmed repeatedly punching another boy on the head after the victim had accidentally thrown a ball at his attacker.
And just weeks earlier, a schoolgirl was recorded punching and kicking two boys in the town's Charlotte Street with her friends laughing nearby.
Yesterday, local councillor Andy Kille, the chairman of the council's Banff and Buchan area committee, branded the attack "unacceptable".
"Any type of bullying or violence is completely unacceptable," he said.
"But I'm sure the council will carry out a complete and thorough investigation."