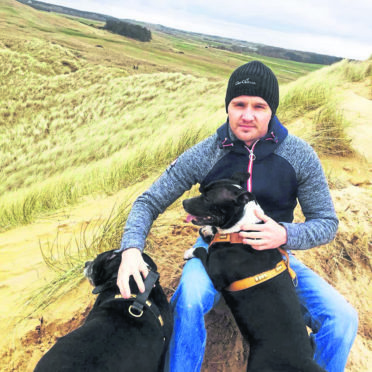 A north-east man who was wrongly accused of murder says he felt "helpless" – but won't let the experience ruin his life.
Barry Martin was 31 when he was arrested on suspicion of Gary Clampett's murder.
The Fraserburgh dad died after being attacked on the street with an arsenal of weapons, including knives, metal poles, a machete and a sword, outside his home on June 18 2017.
Mr Martin was arrested in connection with the murder along with seven other men.
He spent nine months on remand at HMP Grampian before the trial got under way at the High Court in Glasgow.
But two weeks into the trial, Mr Martin's special defence of alibi was accepted and he was acquitted. Five of his co-accused were subsequently found guilty of murder, while his brother Joseph Martin was convicted of culpable homicide. They were jailed for 100 years collectively, while the seventh man walked free following a not proven verdict.
Now Mr Martin has spoken out for the first time, and vowed not to let the incident ruin his life.
He said: "It's taken me a few months to feel ready to get back to work and, I'm not going to lie, I feel bitter about the whole thing.
"I lost my job because of it and my name has been dragged through the mud.
"I've been made out to be something that I am far from.
"I've never claimed to be an angel but everyone who knows me knows I would never do anything like that."
Mr Martin, from Fraserburgh, landed a job last month.
The now 32 year-old said: "I lost nine months of my life that I'll never get back but I've been a free man for four months now and am getting on with my life.
"At the beginning it felt OK because I knew I was innocent.
"But the longer it went on the more I worried I was going to spent the next 15 or 20 years in that place.
"I always kept myself busy, going to the gym twice a day and having a job, but when the cell doors lock and you're all alone with your thoughts, it was much harder.
"The worst thing about it for me was having to watch my mother and father leave a visit with tears in their eyes and not be able to comfort them."
Earlier this year, John Henderson, 47, Gary Martin, 37, Thomas Martin, 45, Dean Leech, 25 and James Connor, 53 and Joseph Martin, 40, were convicted of killing Mr Clampett. A not proven verdict was returned for David Graham.
Despite the hefty sentences, Mr Clampett's family said no punishment would "ever be enough" for the men who had "ripped" them apart.