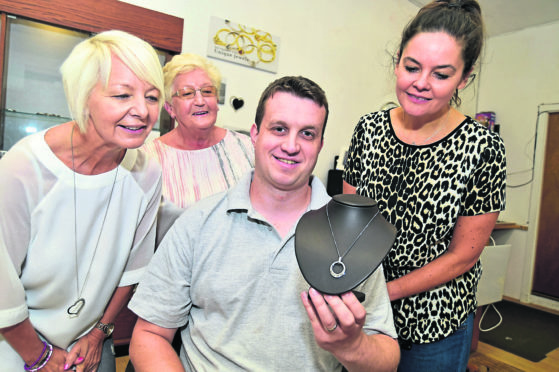 A group of fundraisers will raffle off a special one-off piece of jewellery in memory of one of their founding members.
The daughter of Margaret Adams, who died of bowel cancer last year, has donated three stones from one of her mother's rings for the commissioned pendant.
Fraserburgh-based jeweller Jay Sprigg designed the 18 carat white gold piece which features diamonds and is worth about £4,000.
Members of the In The Pink committee will raffle off the pendant at an afternoon tea event next month.
They raised £7,000 last year from a necklace they commissioned to be made for a raffle prize.
Committee member Joyce Taylor said the group normally raised money for a breast cancer charity but would be holding the raffle for a bowel cancer research charity this year instead.
She said: "Margaret was a founding member of our committee. She took ill last August and died in December.
"We had a necklace at last year's event, but this piece has actual diamonds in it."
Mrs Adams' daughter Marianne said: "My mum passed away very suddenly last year and she had given me a ring to be donated to made into a piece of jewellery.
"I am sitting on the committee in my mum's place.
"Last year we raised £7,000 for breast cancer research and this time the piece of jewellery is a lot bigger.
"I think the sentimental interest will be there as well because she was quite a figure in the community."
Seven friends set up the committee last year to raise funds for charity.
The afternoon tea is being held at the South Church Hall in Fraserburgh on Saturday, September 22.
Raffle tickets can be bought from shops throughout the town centre.