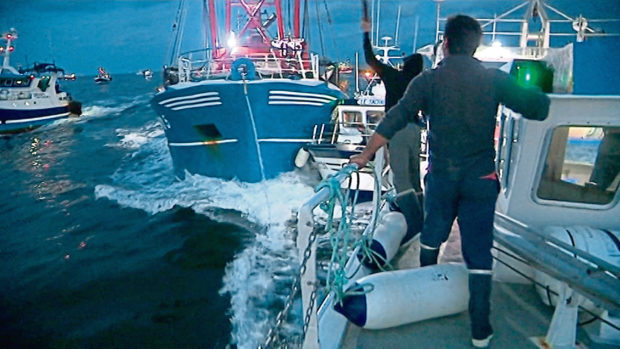 The owner of a north-east vessel caught up in violent clashes in the English Channel yesterday called for assurances the French Navy will protect Scots fishermen if it moves into the English Channel.
According to the country's agricultural minister Stephane Travert, their armed fleet will intervene is there a repeat of the skirmishes seen last week.
Two north-east boats, the Peterhead-registered Honeybourne III and the Fraserburgh-registered Georgia Dawn, were among five UK vessels targeted in the Baie de Seine, off the coast of Normandy.
Flares and rocks were thrown at the British crews by 35 boats from France and video footage showed the trawlers colliding in the scallop-rich waters.
Mr Travert said: "We can't keep going on like this, we can't keep having skirmishes like that.
"The French navy is ready to step in if more clashes break out, as well as carrying out checks."
It echoes the stance environment secretary Michael Gove took last week. He said it was up to the French authorities to intervene as the violent scenes broke out in their water.
But Graeme Sutherland, who is a director at Whitelink Seafoods in Fraserburgh, is not convinced by suggestions the Marine Nationale will get involved if there is any repeat of the skirmishes.
He feels they should have stepped in a week ago and has called for more details about the kind of action that could be taken if violence breaks out on the water again.
Mr Sutherland, whose firm owns Georgia Dawn, said: "They saw what was going on last week and should have intervened in what was a pretty disgraceful incident.
"There are too many unanswered questions. How far are they willing to go?  Are they just going to sit there until it gets out of hand?  Are going to make arrests if it happens again?  Will they escort British boats into port?
"They need to be clearer about what they are saying.
"What they need to do is take on the people who are instigating the violence.
"We are putting people out there and their lives are being put in danger. It is very easy to lose a life and we haven't been pushing the boat to go back to these scallop grounds.
"The boat has decided to stay out of the way. Thankfully we are getting decent fishing just now elsewhere."
The dispute centres on regulations that mean the French fishing fleet cannot harvest for scallops in the Baie de Somme between May 15 and October 1.
British ships are not subject to the same rules and can fish there legally – something that angers mariners in France.
Usually an agreement is struck between the scallop industries operating in France and the UK, but a deal could not been done this summer.
Talks between industry representatives and officials will resume in London today.
Last night, Downing Street said it was hoped both sides could agree an "amicable" solution.