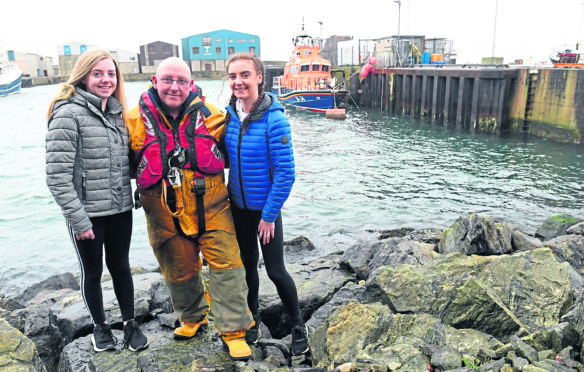 A north-east coxswain and his daughters are calling on others to line-up alongside them this Boxing Day and brave a leap into the chilly North Sea.
The annual sponsored swim at Fraserburgh harbour has raised £65,000 for the town's RNLI team over the past decade.
And among the participants this December 26 will be lifeboat coxswain Vic Sutherland's two eldest daughters.
This year is the 11th time his Fraserburgh team have hosted the event and they're hoping to beat their record of 36 swimmers.
---
>> Keep up to date with the latest news with The P&J newsletter
---
All who take part in the day are welcomed aboard the lifeboat before jumping into the harbour water and swimming the 50 metres –  two lengths of a regular swimming pool –  before climbing the ladder out of the water.
Mr Sutherland's eldest daughter Eilidh, 14, will be taking on the challenge for the third time.
She said: "It's a good experience as folk cheer you on and it's not so bad because you're not on your own.
"My advice to anyone doing it for the first time would be to train as much as you can in things like stamina, not just swimming.
"I dance and do fitness so that helps but the determination to get to the other side once you're actually in the water is what pushes you on as it's so cold."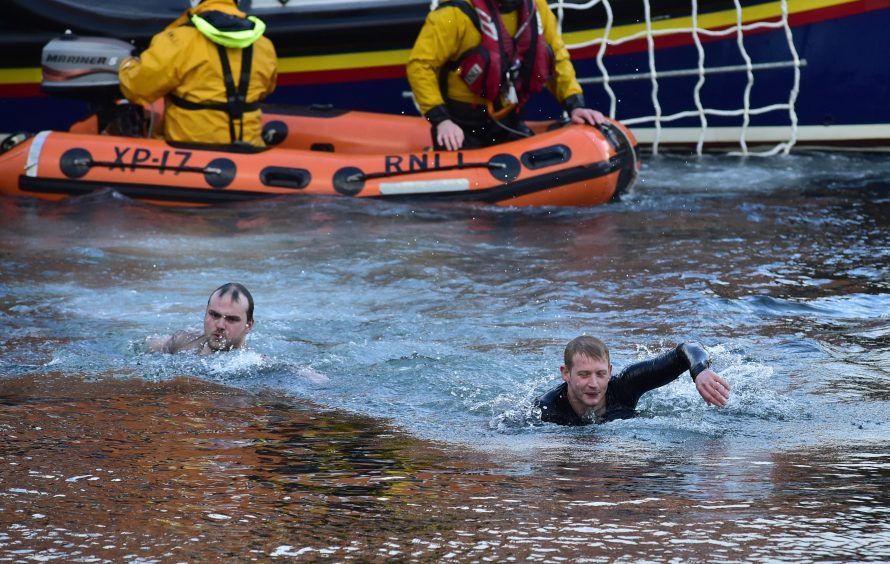 For her younger sister Ailsa, 12, it will be a first plunge into the Broch harbour.
She said: "I'm kind of nervous – not so much for what's in the water but I'm worried about how cold it will be."
The water temperature yesterday was just seven degrees and it is expected to drop over the next month.
The two girls have been inspired by their dad who, as well as being coxswain, has completed the Boxing Day swim five times.
Mr Sutherland said: "The year all three of my daughters do it will be the next time I do – that will be around three years time near my 50th birthday.
"Twice before I've done it in a mankini but people can wear what they want, within reason.
"I'm really proud of my girls and my niece Jordan and nephew Declan will also be taking part it so it really is a family affair.
"It would be fantastic if we had loads of people taking part.
"The last ten years have raised £65,000 and if we can get another £5,000 this year then that would really be great."
Anyone wishing to take part should contact RNLI Fraserburgh on Facebook or email fraserburgh@rnli.org.uk.