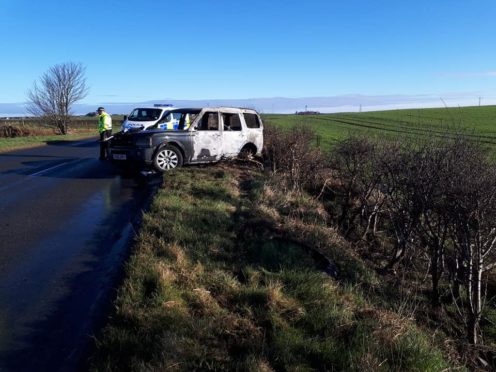 An investigation has been launched by police after a Land Rover was found on fire in the early hours of Saturday morning.
Emergency services were called to the A981 Memsie to Fraserburgh road shortly after 6.20am on Saturday, following reports of a car in flames.
Firefighters tackled the blaze, using a variety of equipment to extinguish the blaze.
When police arrived, they found no one was in or with the vehicle.
The owner launched his own public appeal for information on Facebook shortly after.
Alexander Ritchie took to social media asking witnesses to come forward.
He wrote: "If anyone saw my Land Rover on the go between 6.30pm last night (Friday) and 6.30am or if any local was walking their dog after 6.30pm and noticed the Land Rover still outside my house or dodgy people going about, let us know please.
"Someone took the keys from my house and stole it.
"They ended up crashing it heading for the Broch, coming from Memsie, and it either caught fire when it crashed or they torched it.
"I'm absolutely gutted, that must be 25 years worth of tools, analysers and test equipment ruined."
He later added: "Some point before it crashed on the Memsie to Broch road it had been at the Wastard Rosehearty – some stuff had been dumped there."
Pictures of the scorched vehicle were posted online with the appeal.
Police attended the scene when the car fire was discovered.
A spokesman said: "We received reports of a car on fire a mile outside of Fraserburgh on the A981 road.
"The call came in around 6.28am on March 2.
"It appears there were no people with the vehicle and the matter is now under inquiry.
"Anyone with information should contact the police."
Firefighters were sent from Fraserburgh to deal with the incident.
Their spokeswoman said: "A call came in for us at 6.24am.
"We mobilised one appliance – the second Fraserburgh – to the car on fire.
"The fire fighters used two BAs, a hose reel, some foam and a jet.
"All we did was dampen down the vehicle, making sure that it was safe and that was it.
"Police were in attendance and we left the car in their hands."