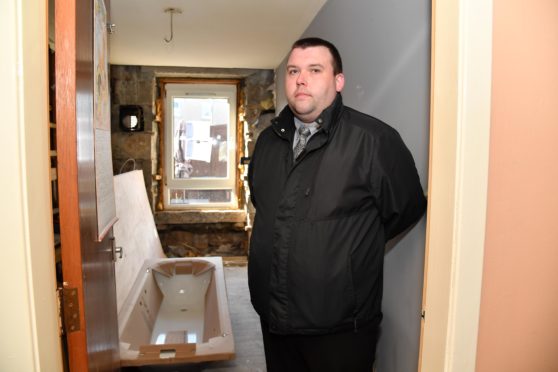 A family hit out yesterday claiming they would be left temporarily homeless with an eight-week-old baby due to a problem with home repairs following the discovery of a needle.
Shaun Craig and his partner Viktorija Konstantinovica are facing days without somewhere to live due to kitchen and bathroom refurbishment work being delayed.
They left the Aberdeenshire Council owned-house they live in on Kinnaird Road on Monday so their daughter did not have to sleep in a dusty room.
But when Mr Craig visited the property that evening he found little work had been carried out and, as a maintenance surveyor, knew something was wrong.
The council then informed him they had been notified that morning that a needle had been found at the end of their garden so the work had stopped.
Repairs could not continue until a needle sweep was carried out.
The council completed the 10-minute checks on Thursday but Mr Craig said its contractors, Everwarm, claimed not to have been notified and then disputed the outcome of the report.
The firm then confirmed an assistant site manager would be at the property on Monday to start the work which is expected to take eight days.
But Mr Craig said this would leave his family with no accommodation because they only had a room available until Friday.
He said: "We're staying with family and had the right amount of time for how long the work would take but they've no space after Friday and we've nowhere else to go.
"We've been told now that work will restart on Monday as Everwarm will be there and we've been given lots of verbal apologies from the council but no written apology.
"It's quite a predicament to be in – we've effectively been made homeless and I can't fathom how this has happened.
"I can't put up with this any longer. The mismanagement and miscommunications to each other and to us as the tenants is awful.
"We want to warn other council tenants of how things could be if they're managed like this."
Mr Craig, 32, said his 29-year-old partner Miss Konstantinovica was still recovering from a difficult labour.
He described the situation as "extremely stressful" and said they had been left feeling the contractor and council were blaming each other for the refurbishment delay.
The couple have now lodged a complaint with the council and are considering seeking legal action for compensation.
An Aberdeenshire Council spokesman said: "Work at the property was temporarily halted following the discovery of a needle in the garden to allow a check of the area to take place.
"Work has now resumed and we have apologised to the tenant for the inconvenience."