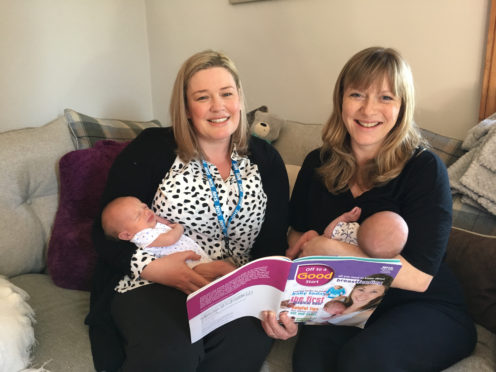 A Fraserburgh support group is being relaunched this month to encourage mums to continue breastfeeding for longer than eight weeks.
Health visitors hope to bring north-east mothers together for the Broch Bosom Buddies group which will take place at Mrs Maitland's Restaurant and Coffee shop.
There is currently an informal gathering in the town but health professionals believe new mums would benefit from organised sessions.
According to data held by the Information Services Division, about 64% of babies born in 2017/18 started off being breastfed, although the numbers had dropped to 42% during six to eight week checks.
Health visitors in Fraserburgh were inspired to take action on the back of the recent success of the weekly Breast Friends group in Banff.
Brenda McGuile, a health visitor based at Saltoun Surgery, is one of the organisers. She said: "We have a team who have done a lot of research into it and asked mothers what they would like so that it can be sustained.
"In the past we've had groups starting well which have petered out.
---
>> Keep up to date with the latest news with The Courier newsletter
---
"Scotland doesn't have the best breastfeeding rates but we are improving and at the moment we've more breastfeeders than we've had in a long time.
"There's often a big drop in breastfeeding between the baby being born and coming into our case load at 11 days old but an even bigger drop between six to eight weeks when a lot of mums give up.
"We recognise that's the prime time to offer support and these groups have a great impact."
The Scottish Government aims to reduce the six to eight-week drop in numbers by 10% before 2025.
But Broch Bosom Buddies is not just an exercise to increase rates.
Mrs McGuile said: "It's about establishing friendships between parents too as often those will become the people you can talk to at any time.
"Parents don't need to be having problems to come to the group – often sharing your experiences is enough not to feel alone and sharing concerns can make you feel better about your situation.
"Mrs Maitland's Restaurant and Coffee shop is very pro-breastfeeding and is delighted we're going to be using the space and they have a play area so people with younger children can come along too as they'll have something to do."
The relaunch of Broch Bosom Buddies will be held on April 30 at the Cross Street coffee shop from 10.30am to noon.
Weekly sessions will then carry on every Tuesday at the same time and place.